Harry Potter and the Goblet of Fire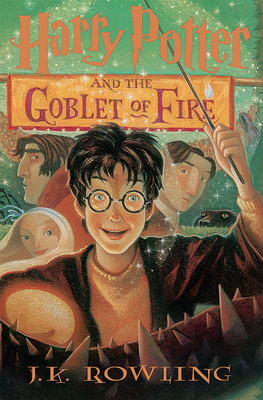 Harry Potter and the Goblet of Fire
Scholastic, Hardcover, 9780439139595, 752pp.
Publication Date: July 8, 2000
* Individual store prices may vary.
Buy Now
or
Shop Local
Enter your zip code below to purchase from an indie close to you.
Description
It's the pivotal fourth novel in the seven-part saga of a young wizard's coming of age. The thickest. The juiciest yet. Harry Potter turns fourteen. But will all his friends? Rumors have persisted that one of the characters may not see the conclusion of this novel, something the author has refused either to confirm or deny. But we who love Ron, Hermione, Hagrid...even pitiful Neville Longbottom...wait anxiously to see if they will make it through safely. No one's fate is certain when Volde -- excuse me -- He-Who-Must-Not-Be-Named is part of the picture.
What is certain is that a novel of excruciating suspense awaits, leavened by J. K. Rowling's inimitable sense of humor and the burgeoning details of her magical world. Whether it's taking a front-row seat at the International Quidditch World Cup, or meeting the new Defense-Against-the-Dark-Arts teacher, or finding out if Harry really does start a romance with Cho Chang, fans of the history-making boy-wizard will find their thirst for Hogwarts adventure slaked deliciously...at least for a little while!

About the Author
J. K. Rowling est l auteur de la serie des aventures d Harry Potter: sept livres publies entre 1997 et 2007 qui se sont vendus a plus de 450 millions d exemplaires dans le monde, sont distribues dans plus de 200 pays, traduits dans 74 langues et ont ete transformes en huit films a tres grand succes. J. K. Rowling a recu de nombreux prix et diplomes, dont un OBE (ordre de chevalerie du systeme honorifique britannique) pour services rendus a la litterature pour enfants, le Prix de la Concorde du Prince des Asturies, la Legion d Honneur francaise et le Prix Hans Christian Andersen. J. K. Rowling soutient un grand nombre de causes caritatives par le biais de sa fondation Volant, et est la fondatrice de Lumos, une organisation visant a transformer la vie des enfants defavorises.