The Dreamer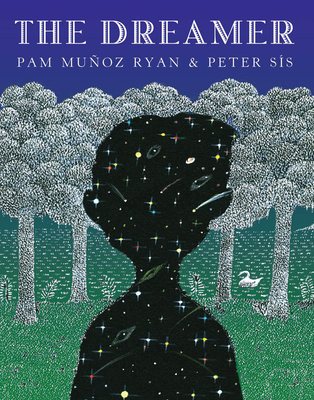 The Dreamer
Scholastic Press, Hardcover, 9780439269704, 372pp.
Publication Date: April 19, 2010
* Individual store prices may vary.
Buy at Local Store
Enter your zip code below to purchase from an indie close to you.
or
Buy Here
Description
A breathtaking illustrated novel from Pura Belpre Award winner, Pam Ryan, and MacArthur fellow and three-time Caldecott Honoree, Peter Sis
From the time he is a young boy, Neftali hears the call of a mysterious voice. Even when the neighborhood children taunt him, and when his harsh, authoritarian father ridicules him, and when he doubts himself, Neftali knows he cannot ignore the call. Under the canopy of the lush rain forest, into the fearsome sea, and through the persistent Chilean rain, he listens and he follows. . . Combining elements of magical realism with biography, poetry, literary fiction, and sensorial, transporting illustrations, Pam Munoz Ryan and Peter Sis take readers on a rare journey of the heart and imagination.
About the Author
Pam Munoz Ryan grew up in the San Joaquin Valley of California and now lives with her family near San Diego. She based this story on the experiences of her maternal grandmother whose privileged life in Mexico was altered dramatically when she immigrated to the United States and went to work in a company-owned farm labor camp. She is the author of the acclaimed "Riding Freedom" and "Amelia and Eleanor Go for a Ride," an ALA Notable Children's Book.

Peter Sis is an internationally acclaimed author, artist, and filmmaker. Among his works are three Caldecott Honor books: The Wall: Growing Up Behind the Iron Curtain; Tibet: Through the Red Box; and Starry Messenger: Galileo Galilei. He has illustrated five other novels by Sid Fleischman, including the Newbery Medal book The Whipping Boy. He lives with his family in New York State.
Praise For The Dreamer…
Kirkus Reviews - March 15, 2010
Ryan, Pam Mu\u00f1oz
S\u00eds, Peter
THE DREAMER (star)
Ryan\u2019s fictional evocation of the boy who would become Pablo Neruda is rich, resonant and enchanting. Simple adventures reveal young Neftal\u00ed\u2019s painful shyness and spirited determination, his stepmother\u2019s love and his siblings\u2019 affection and his longing for connection with his formidable, disapproving father. The narrative captures as well rain falling in Temuco, the Chilean town where he was raised, and his first encounters with the forest and the ocean. Childhood moments, gracefully re-created, offer a glimpse of a poet-to-be who treasures stories hidden in objects and who recognizes the delicate mutability of the visible world, while the roots of Neruda\u2019s political beliefs are implied in the boy\u2019s encounters with struggles for social justice around him. Lines from a poem by Ryan along with S\u00eds\u2019s art emphasize scenes and introduce chapters, perfectly conveying the young hero\u2019s dreamy questioning. The illustrator\u2019s trademark drawings deliver a feeling of boundless thought and imagination, suggesting, with whimsy and warmth, Neftal\u00ed\u2019s continual transformation of the everyday world into something transcendent. A brief selection of Neruda\u2019s poems (in translation), a bibliography and an author\u2019s note enrich an inviting and already splendid, beautifully presented work. (Historical fiction. 9-13)


School Library Journal – April 2010
*RYAN, Pam Mu\u00f1oz. The Dreamer. illus. by Peter S\u00eds. 384p. Scholastic. Apr. 2010. Tr $17.99. ISBN 978-0-439-26970-4. LC number unavailable.
Gr 4-9–Readers enter the creative, sensitive mind of Pablo Neruda, the Nobel Prize-winning poet, in this beautifully written fictional biography. Ryan artfully meshes factual details with an absorbing story of a shy Chilean boy whose spirit develops and thrives despite his father\u2019s relentless negativity. Neruda, who was born Neftali Reyes, sees, hears, and feels poetry all around him from an early age. Luckily he finds understanding and encouragement from his stepmother and his uncle, whose humanitarian and liberal attitudes toward nature and the rights of the indigenous Mapuche people greatly influence his developing opinions. In early adulthood, Reyes starts using the pseudonym by which he becomes known, taking his last name from that of a famous Czechoslovakian poet. Ryan suggests that this was how he hid his activities from his father. Her poetic prose style totally dovetails with the subject. Interspersed with the text are poems that mimic Neruda\u2019s style and push readers to think imaginatively and visually. S\u00eds\u2019s whimsical pen-and-ink pointillist illustrations enliven the presentation. Each chapter is preceded by three small drawings that hint at something to come. The perfect marriage of text and art offers an excellent introduction to one of the world\u2019s most famous poets. An appended author\u2019s note gives further insight into Neruda\u2019s beliefs and accomplishments. In addition there are excerpts from several of his poems and odes. This unusual selection would be a fine companion to Deborah Kogan Ray\u2019s To Go Singing Through the World (Farrar, 2006).
–Renee Steinberg, formerly at Fieldstone Middle School, Montvale, NJ


The Horn Book – March/April 2010
[STAR] The Dreamer
by Pam Mu\u00f1oz Ryan; illus. by Peter S\u00eds
Intermediate, Middle School
As Neftal\u00ed Reyes enters university, his wrathful father forbids wasting time on his useless \u201chobby\u201d: writing. So he fashions a pseudonym: \u201cPablo\u201d from Paolo, in an Italian poem; \u201cNeruda\u201d after a Czech writer. The name fits like a suit: \u201cThe lapels were the width that he liked. The color was soft enough not to offend, but bright enough to be remembered. The name was not only a perfect solution, it was a perfect fit.\u201d Perfect indeed, like the union that resulted in this novel: the subject, poet Pablo Neruda (1904–73), the Chilean Nobel Prize winner; Ryan, the author who re-creates Neruda\u2019s spirit and sensibility; and S\u00eds, the Czech-born illustrator whose escape from oppression (see The Wall, rev. 9/07) so hauntingly resembles Neruda\u2019s struggle for creative freedom.
In Ryan\u2019s perceptive reconstruction of the poet\u2019s early years, Neftal\u00ed, at eight, is already at loggerheads with an autocratic father who prohibits all creative activities, even reading. Fortunately the boy is unquenchable—a lover of words, books, and ideas; a collector of the small, lovely objects that will always figure in his imagination. The forest yields natural treasures—a pinecone he trades for a toy sheep, a lifelong talisman. At the beach (where Father forces him into the terrifying waves) are shells and a sympathetic librarian who offers him a hideaway for reading. There he feeds a pair of swans who are later shot by a hunter—a tragedy that symbolizes his own frustrations and sorrows while also bonding him more closely with his loving stepmother and sister. The passing years nourish mind and heart with telling incidents: a girl Neftal\u00ed admires recognizes his hand in the love letters a bully forces him to write; with a beloved uncle, he defends indigenous Chileans. Poetic interludes, inspired by Neruda\u2019s Book of Questions, heighten each event\u2019s significance: at the swans\u2019 death (\u201cWhich is sharper? The hatchet that cuts down dreams? / Or the scythe that clears a path for another?\u201d); after Father burns Neftal\u00ed\u2019s papers (\u201cWhere is the heaven of lost stories?\u201d); on becoming Pablo Neruda (\u201cDoes a metamorphosis / begin from the outside in? / Or from the inside out?\u201d).
S\u00eds\u2019s introspective, emotion-charged drawings spring naturally from this lyrical account of a difficult childhood. Many of his quiet compositions are surreal visions: tiny, frightened children peer up from the ocean waves that dapple their implacable father\u2019s outlined form; a child, vulnerably naked, rides a winged pen that resembles a swan in flight. Such imagery adds a dimension of magical realism to a text in which Neftal\u00ed\u2019s imaginative inner world is so often confronted with a harsher external reality, even while it is nurtured by kindness and natural beauty. Conflicts, injustice, and a promised future make the story compelling; S\u00eds deepens it with dozens of provocative images. Neatly crafted vignettes presage each chapter\u2019s events; visual imagery extends Ryan\u2019s poems on open spreads of sea and sky; paths beckon and exquisite details reflect the dreamer\u2019s maturing imagination, clothing this masterful tribute in art that fits it as ineluctably as Neruda\u2019s new name suited his purpose. An author\u2019s note and several of Neruda\u2019s poems are appended. JOANNA RUDGE LONG



Ryan's (Paint the Wind) wandering and imaginative prose and Sís's (The Wall) quietly haunting art fuse in this fictionalized account of Pablo Neruda's upbringing in the small town of Temuco, Chile. Precocious, terribly shy, and insightful, Neruda (known then by his birth name, Neftalí Reyes) is curious about all facets of life, particularly the wonders of nature. "He stood, captivated, feeling small and insignificant, and at the same time as if he belonged to something much grander," writes Ryan when Neftalí first sees the ocean. His role model is his uncle Orlando, who owns the local newspaper, but his domineering father has no patience for the boy's daydreaming and love of reading and writing, which ultimately provokes Neftalí's passion for finding his own voice. Printed in green ink (as is the text), Sís's stippled illustrations provide surreal visual teasers for each chapter. Larger images pair with poetic questions ("Is fire born of words? Or are words born of fire?") that echo Neruda's The Book of Questions. Stressing "the importance of following dreams and staying determined," the book is an immaculately crafted and inspiring piece of magical realism. Ages 9–14. (Apr.)

Respinning the childhood of the widely beloved poet Pablo Neruda, Ryan and Sís collaborate to create a
stirring, fictionalized portrait of a timid boy's flowering artistry. Young Neftalí Reyes (Neruda's real
name) spends most of his time either dreamily pondering the world or cowering from his domineering
father, who will brook no such idleness from his son. In early scenes, when the boy wanders rapt in a
forest or spends a formative summer by the seashore, Ryan loads the narrative with vivid sensory details.
And although it isn't quite poetry, it eloquently evokes the sensation of experiencing the world as someone
who savors the rhythms of words and gets lost in the intricate surprises of nature. The neat squares of Sís'
meticulously stippled illustrations, richly symbolic in their own right, complement and deepen the lyrical
quality of the book. As Neftalí grows into a teen, he becomes increasingly aware of the plight of the
indigenous Mapuche in his Chilean homeland, and Ryan does a remarkable job of integrating these themes
of social injustice, neither overwhelming nor becoming secondary to Neftalí's story. This book has all the
feel of a classic, elegant and measured, but deeply rewarding and eminently readable. Ryan includes a
small collection of Neruda's poetry and a thoughtful endnote that delves into how she found the seeds for
the story and sketches Neruda's subsequent life and legacy.
— Ian Chipman