Chasing Vermeer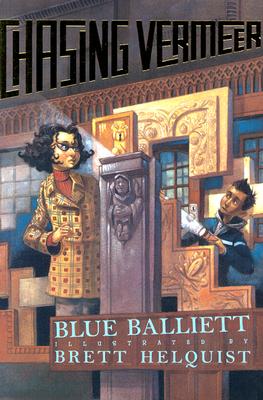 Chasing Vermeer
Scholastic Press, Hardcover, 9780439372947, 254pp.
Publication Date: June 1, 2004
* Individual store prices may vary.
Buy at Local Store
Enter your zip code below to purchase from an indie close to you.
or
Buy Here
Description
When a book of unexplainable occurances brings Petra Andalee & Calder Pillay together, strange things start to happen: seemingly unrelated events connect, an eccentric old woman seeks their company, & an invaluable Vermeer painting disappears. Before they know it, the two find themselves at the center of an international art scandal. As Petra & Calder are drawn clue by clue into a mysterious labyrinth they must draw on their powers of intuition, their skills at problem solving, and their knowledge of Vermeer. Can they decipher a crime that has left even the FBI baffled?
About the Author
Blue Balliett grew up in New York City and graduated from Brown University. In addition to her collections of ghost stories, she is also the author of the New York Times best-selling young adult novel, Chasing Vermeer (Scholastic Press, 2004). She lives in Chicago.

Brett Helquist's celebrated art has graced books from the charming Bedtime for Bear, which he also wrote, to the New York Times bestselling A Series of Unfortunate Events by Lemony Snicket to the glorious picture book adaptation of Charles Dickens's A Christmas Carol. He lives with his family in Brooklyn, New York.
Praise For Chasing Vermeer…
Voice of Youth Advocates
December 1, 2004

Mix classic artworks with crime? It seems to be a popular plot that makes its way here to a thriller for young readers. Two eccentric sixth graders at the University School find themselves in the middle of a major art theft. Who was Vermeer? What does Charles Fort have to do with it all? (He was real.) And why do Petra and Calder get clues about what has happened? Petra sees images that relate to the picture of the lady, and Calder's favorite game pieces, from pentominoes, give him clues. Their teacher, Miss Hussey, seems to be involved, as does elderly Mrs. Sharpe, and perhaps Calder's father. And then there is something odd about Mr. Watch from Powell's Bookstore. Calder's friend Tommy sends coded messages and then goes missing. Plenty of clues, wrong directions, speculation, and good guesses lead Petra and Calder on a sequence of adventures to find the art work before it is destroyed. This exciting romp will appeal to middle school readers and make them think about clues and even art. The adults are given good characterizations although the young people do not know whom to trust and perhaps get in a little deeper than they should. The ending comes a bit too quickly without enough evolution and there are a number of loose ends, but most readers will overlook this flaw for the fun. The illustrations by Helquist, of Lemony Snicket fame, contain hidden messages that present challenging puzzles to the reader.-Patricia Morrow.

Horn Book Magazine
July 1, 2004
(Intermediate) "Dear Friend: I would like your help in identifying a crime that is now centuries old." Sixth-grade classmates Petra Andalee and Calder Pillay are drawn into the mystery: a claim that some of the works attributed to Johannes Vermeer were not, in fact, painted by that seventeenth-century Dutch artist. Their investigation--fueled by the enigmatic behavior of their favorite teacher, a shared interest in unexplained phenomena, and a few mystical experiences of their own--uncovers a series of coincidences and connections that, like the pentomino set (a puzzle-like math tool) Calder carries in his pocket, fit together in often-unexpected patterns. And when Vermeer's A Lady Writing disappears while in transit from the National Gallery to the Art Institute of Chicago, Petra and Calder end up hunting for the missing painting right in their own neighborhood. The protagonists are smart and appealing, the prose style is agreeably quirky, and fans of puzzle-mysteries will enjoy cracking the codes presented within the text and hidden in Helquist's stylish black-and-white illustrations. But they may also be frustrated that such a heady, elaborately plotted novel comes to a weak resolution, as the answers to the mysteries are explained away in a too-hasty summation--and the villain turns out to be an offstage figure. The conclusion may be disappointing, but the chase to the end is entertaining. Copyright 2004 of The Horn Book, Inc. All rights reserved.

School Library Journal
July 1, 2004

Gr 5-8-Fans of Ellen Raskin's The Westing Game (Dutton, 1978) and E. L. Konigsburg's From the Mixed-Up Files of Mrs. Basil E. Frankweiler (Turtleback, 1967) will welcome this novel about two classmates determined to solve the mystery of a missing painting. Brainy 12-year-olds Petra Andalee and Calder Pillay attend the University of Chicago Laboratory School where their teacher's unorthodox methods make learning an adventure. When Vermeer's A Lady Writing disappears on its way to exhibition at the Art Institute of Chicago, the two overcome their adolescent awkwardness and let their friendship bloom, pooling their talents to rescue the masterpiece and expose the thief. Many elements play a role in unraveling the secrets surrounding the crime: Calder's set of pentominoes; his encoded correspondence with his friend Tommy about a missing boy named Frog; and