Rules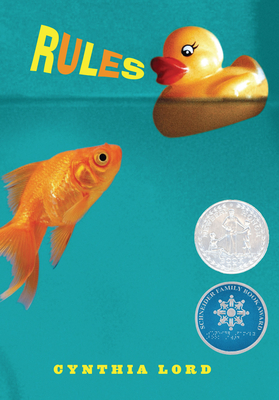 Rules
Scholastic Press, Hardcover, 9780439443821, 200pp.
Publication Date: May 7, 2007
* Individual store prices may vary.
Buy at Local Store
Enter your zip code below to purchase from an indie close to you.
or
Buy Here
Description
Twelve-year-old Catherine just wants a normal life. Which is near impossible when you have a brother with autism and a family that revolves around his disability. She's spent years trying to teach David the rules-from "a peach is not a funny-looking apple" to "keep your pants on in public"-in order to stop his embarrassing behaviors. But the summer Catherine meets Jason, a paraplegic boy, and Kristi, the next-door friend she's always wished for, it's her own shocking behavior that turns everything upside down and forces her to ask: What is normal?
About the Author
Cynthia Lord is the award-winning author of RULES, a Newbery Honor book (among its many distinctions), as well as the critically acclaimed TOUCH BLUE, released August, 2010. She made her picture book debut with HOT ROD HAMSTER. She lives in Maine with her family. Visit her at cynthialord.com.
Praise For Rules…
Booklist 2/15/06
Gr. 47. No toys in the fish tank" is one of many rules that 12-year-old Catherine shares with her autistic younger brother, David, to help him understand his world. Lots of the rules are practical. Others are more subtle and shed light on issues in Catherine's own life. Torn between love for her brother and impatience with the responsibilities and embarrassment he brings, she strives to be on her parents' radar and to establish an identity of her own. At her brother's clinic, Catherine befriends a wheelchair-bound boy, Jason, who talks by pointing at word cards in a communication notebook. Her drawing skills and additional vocabulary cardsincluding whatever" (which prompts Jason to roll his eyes at his mother)enliven his speech. The details of autistic behavior are handled well, as are depictions of relationships: Catherine experiences some of the same unease with Jason that others do in the presence of her brother. In the end, Jason helps Catherine see that her rules may really be excuses, opening the way for her to look at things differently. A heartwarming first novel. Cindy Dobrez

Kirkus
When 12-year-old Catherine is embarrassed by her autistic younger brother's behavior, her mother reassures her that "real friends understand." But Catherine is not convinced, and she is desperate to make a friend of the new girl next door. She doesn't like it when others laugh at David or ignore him; she writes down the rules so he will know what to do. Catherine is also uncomfortable about her growing friendship with 14-year-old Jason, a paraplegic. Jason uses a book of word cards to communicate, and Catherine enjoys making him new cards with more expressive words. Still, when he suggests that they go to a community-center dance, she refuses at first. Only when Jason sees through her excuse does she realize that her embarrassment is for herself. Catherine is an appealing and believable character, acutely self-conscious and torn between her love for her brother and her resentment of his special needs. Middle-grade readers will recognize her longing for acceptance and be intrigued by this exploration of dealing with differences. (Fiction. 9
SLJ
Gr 4-7Twelve-year-old Catherine has conflicting feelings about her younger brother, David, who is autistic. While she loves him, she is also embarrassed by his behavior and feels neglected by their parents. In an effort to keep life on an even keel, Catherine creates rules for him (It's okay to hug Mom but not the clerk at the video store"). Each chapter title is also a rule, and lots more are interspersed throughout the book. When Kristi moves in next door, Catherine hopes that the girl will become a friend, but is anxious about her reaction to David. Then Catherine meets and befriends Jason, a nonverbal paraplegic who uses a book of pictures to communicate, she begins to understand that normal is difficult, and perhaps unnecessary, to define. Rules of behavior are less important than acceptance of others. Catherine is an endearing narrator who tells her story with both humor and heartbreak. Her love for her brother is as real as are her frustrations with him. Lord has candidly captured the delicate dynamics in a family that revolves around a child's disability. Set in coastal Maine, this sensitive story is about being different, feeling different, and finding acceptance. A lovely, warm read, and a great discussion starter.Connie Tyrrell Burns, Mahoney Middle School, South Portland, ME


PW
The appealing, credible narrator at the heart of Lord's debut novel will draw in readers, as she struggles to find order and balance in her life. Her parents place 12-year-old Catherine in charge of her younger autistic brother more often than she would like. Taking solace in art, the girl fills the back of her sketchbook with rules she has established for David, "so if my someday-he'll-wake-up-a-