Inkheart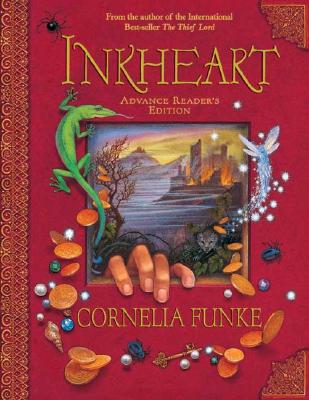 Inkheart
Chicken House, Hardcover, 9780439531641, 534pp.
Publication Date: October 2003
* Individual store prices may vary.
Shop Local
Enter your zip code below to find indies closest to you.
Description
Cornelia Funke, the enormously talented author of the international best-seller THE THIEF LORD, brings readers another spellbinding tale of adventure and magic. Meggie lives a quiet life alone with her father, a book-binder. But her father has a deep secret-- he posseses an extraordinary magical power. One day a mysterious stranger arrives who seems linked to her father's past. Who is this sinister character and what does he want? Suddenly Meggie is involved in a breathless game of escape and intrigue as her father's life is put in danger. Will she be able to save him in time?
About the Author
Cornelia Funke is the author of the bestselling novels "Dragon Rider," "The Thief Lord," "Inkheart," and "Inkspell, "all available on audio from Listening Library. She lives in Los Angeles, California.
Praise For Inkheart…
Horn Book Magazine
(January 1, 2004; 0-439-53164-0)

(Intermediate, Middle School) Who hasn't dreamed of it--characters leaping from the pages of a book to interact with the reader? Or, better yet, the reader transported--quite literally--into the make-believe world of a novel? In this tale of adventure and fantasy by the author of The Thief Lord (rev. 11/02), twelve-year-old Meggie and her father Mo live in a house overflowing with "small piles of books, tall piles of books, books thick and thin, books old and new." But it's one particular book that brings a stranger named Dustfinger to their house one rainy spring night. Meggie learns that many years earlier, while Mo was reading aloud a novel called Inkheart, his voice somehow brought many of its characters--including Dustfinger and the evil despot Capricorn--"slipping out of their story like a bookmark forgotten by some reader between the pages." Now Dustfinger (who longs to return to his fictional origins) wants Mo to read him back into the book, while Capricorn (who likes it here just fine) wants Mo to use his powers to read gold and riches out of stories such as Treasure Island and summon a malevolent, immortal character called the Shadow from the pages of Inkheart. Thanks to Harry P., kids may not be scared off by this volume's heft, though they may wish the pacing wasn't quite so leisurely--even the novel's many chases and hostage-takings are related in a deliberate fashion. But bibliophiles will delight in a story that celebrates books (each chapter begins with a literary passage ranging from Shakespeare to Sendak), and the conclusion is especially satisfying. Copyright 2004 of The Horn Book, Inc. All rights reserved.

Publishers Weekly
(December 15, 2003; STARRED)
Tackling Funke's (The Thief Lord) meaty, intricately plotted tale of magic and books, Redgrave colors her reading with appropriately varying degrees of suspense, revelation and drama. Twelve-year-old Meggie, a self-proclaimed bookworm, finds it odd that her bookbinder father, Mo, has never read aloud to her. But when a mysterious man named Dustfinger appears in the rainy shadows of the garden one night, Meggie begins to unravel the secret her father has kept all her life: when Mo reads aloud from books, the characters come to life and appear before him. This magical power proves dangerous, as characters from a certain book-Inkheart-are on the loose and after Mo. Many twists and turns that will particularly intrigue those who love books unfold before Meggie ultimately learns that she and her father have something in common when it comes to magic. Redgrave's voice takes on growling, sometimes whispery qualities as she portrays villains; a brighter inquisitive tone prevails as Meggie makes observations and interacts with the other characters. The end result is a satisfying listen, perfect for long winter evenings by the fire. Ages 11-up. (Oct.) Copyright 2003 Reed Business Information.

Voice of Youth Advocates
(December 1, 2003; 0-439-53164-0)

The author of The Thief Lord (Scholastic, 2002, c2000/VOYA April 2003) produces another magical novel that is sure to be popular. Mo is a bookmender keeping a secret from his daughter. For as long as she can remember, twelve-year-old Meggie has been on the move with her father, often fleeing in the middle of the night. When an odd character shows up on their doorstep with a mysterious book in hand, warning them to hide, she demands some answers. Mo confesses that his work is related to the absence of Meggie's mother, who disappeared nine years ago. He solicits the aid of an eccentric aunt to watch Meggie for a while, but soon they are all captives of a diabolical crime boss named Capricorn. It is revealed that Mo accidentally released several characters from Inkheart by reading out loud to his wife on that long-ago night. She disappeared into the book when they emerged, a