Inkspell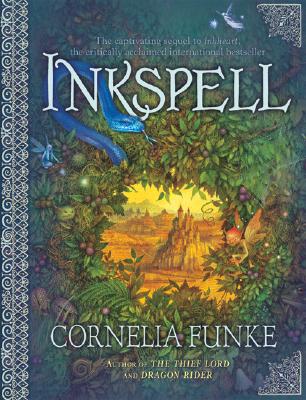 Inkspell
Chicken House, Hardcover, 9780439554008, 635pp.
Publication Date: October 2005
* Individual store prices may vary.
Shop Local
Enter your zip code below to find indies closest to you.
Description
Although a year has passed, not a day goes by without Meggie thinking of INKHEART, the book whose characters became real. But for Dustfinger, the fire-eater brought into being from words, the need to return to the tale has become desperate. When he finds a crooked storyteller with the ability to read him back, Dustfinger leaves behind his young apprentice Farid and plunges into the medieval world of his past. Distraught, Farid goes in search of Meggie, and before long, both are caught inside the book, too. But the story is threatening to evolve in ways neither of them could ever have imagined.
About the Author
Cornelia Funke is the author of the bestselling novels "Dragon Rider," "The Thief Lord," "Inkheart," and "Inkspell, "all available on audio from Listening Library. She lives in Los Angeles, California.

Johanna AdorjAn, born in 1971 in Stockholm, has worked as an editor and writer for various newspapers and magazines. A former theater and opera student, she has also written for stage and screen. She lives in Berlin.
Praise For Inkspell…
Kirkus 9/1/05
One year after the events of Inkheart (2003), one by one, the characters find themselves read from the real world into the Inkworld. Dustfinger is ecstatic to be back home after his long exile; Meggie is thrilled to explore the story that has seduced her with its beauty; Mo and Resa want only to bring their daughter Meggie back. The metaliterary musings begun in the previous title become grander here, as each character grapples with the possibility of challenging the fate that has been written. Fenoglio, the author of the fictional Inkheart, takes on a tragic role, as he sees his godlike idyll threatened when his words and characters take on lives of their own. Woven in and around the breakneck adventure is the provocative notion that words, and the meanings they carry, are plastic and ever susceptible to change. While the permeability of the membrane between imagination and reality may form the base of the novel, Funke delivers more than enough action, romance, tragedy, villainy, and emotion to keep readers turning the pages- and waiitng for the sequel the cliffhanger promises.

*STAR* INKSPELL, by Cornelia Funke (UNCORRECTED PROOF)- BOOKLIST
Readers who enjoyed Funke's Inkheart (2003) are in for a treat with this sequel, a stronger book than its predecessor. In the first volume of the trilogy, a few characters have the ability to read" a character out of a book and into today's world. In this book the process is reversed, and most of the earlier characters are transported to the magical, yet perilous and sometimes brutally violent land of the fictional book, also called Inkheart. Young Meggie has longed to visit that world, but once she travels there she realizes the consequences of her choice and the seeming impossibility of putting things right in either place. With the help Fenoglio, the book's author, who now lives in the secondary world, she connives to turn events toward a good outcome. Though some readers will simply enjoy the adventure story, other will be intrigued by Fenoglio's reflections on the impossibility of controlling what he has created. As before, the book's flow shifts from one group of characters to another as the plot moves swiftly. An indispensable key to the many characters precedes the story. Readers will enjoy the many quotes at chapter headings from writers as diverse as Margaret Atwood, David Almond, Kate DiCamillo, Harper Lee, Pablo Neruda, Phillip Pullman, J.K. Rowling, and T.H. White. In short, a booklover's book.

SLJ 10/05
FUNKE, Cornelia. Inkspell. tr. from German by Anthea Bell. 647p. Scholastic/The Chicken House. Oct. 2005. Tr $19.99. ISBN 0-439-55400-4. LC number unavailable.
Gr 5 UpThis sequel begins a year after the conclusion of Funke's popular Inkheart (Scholastic, 2003). In this fantasy world, certain readers have the power to bring characters out of booksand send them back. Meggie and Farid, apprentices to the fire-eater Dustfinger, follow him to the Inkworld, the land of the book-within-a-book, Inkheart, after he has been read back into its story by a mysterious man named Orpheus. Orpheus uses his powers to read Mortola and Basta, some of the villains of the first volume, into the story, along with Meggie's parents. In Inkworld, Meggie enlists the help of Fenoglio, the original author of Inkheart, to help create a new future for her parents and herself as palace intrigues, war, and the Silver Prince threaten. The story moves along at a rapid pace, from Farid and Dustfinger's original meeting with Orpheus to Farid's warning of Mortola's return to the shift of action to the Inkworld and the heightening conflict in both worlds. Expanding on the ideas behind Inkheart, Funke explores what might happen if authors try to change the world they have created. Familiar characters and those new to this volume are clearly drawn. This is an involving story that will draw readers smoothly to its conclusion and le