The Boy Who Dared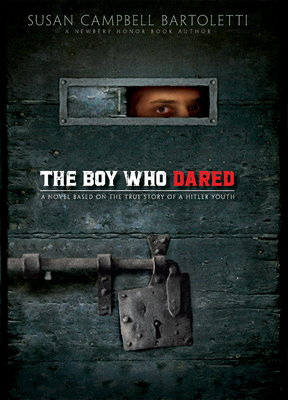 The Boy Who Dared
Scholastic Press, Hardcover, 9780439680134, 202pp.
Publication Date: February 2008
* Individual store prices may vary.
Buy Now
or
Shop Local
Enter your zip code below to purchase from an indie close to you.
Description
Bartoletti has taken one episode from her Newbery Honor Book, HITLER YOUTH, and fleshed it out into thought-provoking novel. When 16-year-old Helmuth Hubner listens to the BBC news on an illegal short-wave radio, he quickly discovers Germany is lying to the people. But when he tries to expose the truth with leaflets, he's tried for treason. Sentenced to death and waiting in a jail cell, Helmuth's story emerges in a series of flashbacks that show his growth from a naive child caught up in the patriotism of the times, to a sensitive and mature young man who thinks for himself.
About the Author
Susan Campbell Bartoletti writes poetry, short stories, picture books, novels, and nonfiction for young readers. She is best known for her nonfiction work, which has received dozens of awards and honors, including the ALA Newbery Honor, the ALA Robert F. Sibert Award for Nonfiction, the NCTE Orbis Pictus Award for Nonfiction, the SCBWI Golden Kite Award for Nonfiction, and the Jane Addams Children s Book Award.
Praise For The Boy Who Dared…
In Hitler Youth: Growing Up in Hitler\u2019s Shadow, Booklist\u2019s 2005 Top of the List–Nonfiction for youth, Bartoletti included a portrait of Helmuth H\u00fcbener, a German teenager executed for his resistance to the Nazis. In this fictionalized biography, she imagines his story, as he sits in prison awaiting execution in 1942 and remembers his childhood in Hamburg during Hitler\u2019s rise to power. Beaten and tortured to name his friends, he remembers how he started off an ardent Nazi follower and then began to question his patriotism, secretly listened to BBC radio broadcasts, and finally dared to write and distribute pamphlets calling for resistance. The teen\u2019s perspective, and makes this a particularly gripping way to personalize the history, and even those unfamiliar with the background Bartoletti weave in here–the German bitterness after World War I, the burning of the books, the raging anti-Semitism––will be held by story of one boy\u2019s heroic resistance in the worst of times. A lengthy author\u2019s note distinguishes fact from fiction, and Bartoletti provides a detailed chronology, a bibliography, and many black-and-white photos of Helmuth with friends, family and members of his Mormon church. The is an important title for the Holocaust curriculum.. See the Booklist interview with Bartoletti in the January 1, 2006 issue, in which she discusses how this teen\u2019s story moved her.
— Hazel Rochman, Booklist, February 15, 2008


Returning to material she uncovered while researching Hitler Youth, Bartoletti offers a fictionalized biography of Helmuth H\u00fcbener, a Hamburg teenager who, in February 1942, was arrested for writing and distributing leaflets that denounced Hitler. Almost nine months later, on October 27, at the age of 17, H\u00fcbener was executed for treason. Opening her story on H\u00fcbener's last day, Bartoletti frames the work as third-person flashbacks, casting over the narrative a terrible sense of doom even as she escalates the tension. She does an excellent job of conveying the political climate surrounding Hitler's ascent to power, seamlessly integrating a complex range of socioeconomic conditions into her absorbing drama of Helmuth and his fatherless family. The author also convincingly shows how Helmuth originally embraces Hitler. His disillusionment seems to come a little too easily; American readers may wonder why Helmuth's reactions were not more common. But that question resolves itself as the author exposes the chilling gap between her own admiration for her subject and reflections, discussed in an afterword, from those who knew Helmuth, as in this comment from his older brother: \u201cHe should have known better than that.... A sixteen-year-old boy cannot change the government.\u201d Ages 11-up. (Feb.)

— Publishers Weekly, February 11, 2008