Crackback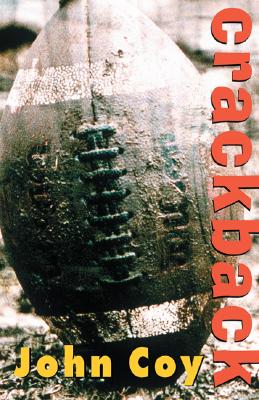 Crackback
Scholastic Press, Hardcover, 9780439697330, 201pp.
Publication Date: November 1, 2005
* Individual store prices may vary.
Buy at Local Store
Enter your zip code below to purchase from an indie close to you.
or
Buy Here
Description
When Miles Manning, a successful high school football player, discovers his teammates are using steroids--and one of them is his best friend--he's faced with a tough decision: Is he willing to do what it takes to win? Football is his life, and his family, especially his dad, is pinning its hopes on him. It's a lot of pressure for a high school junior to bear. This gripping look into the world of high school boys and athletes--and their struggle to be the best--is provocative and searingly honest.
About the Author
John Coy has written several books for children, including "Top of the Order" and "Love of the Game". He spends much of his time as a writer-in-residence at elementary schools. He lives in St. Paul, Minnesota.
Praise For Crackback…
Booklist 9/1/05
*STAR* Coy, John. Crackback. Nov. 2005. 208p. Scholastic, $16.99 (0-439-69733-6).
Gr. 8-11. Sophomore football star Miles is excited about his strong team's chances in the new season. Then his favorite coach resigns, and Miles chafes under the new coach, who favors phrases such as, This isn't a democracy. This is a dictatorship, and I'm the Dick." Miles feels alienated from his teammates at school, who have turned to steroids, and also at home, with his angry father. In his first novel, the author of numerous picture books, including Strong to the Hoop (1998), writes a moving, nuanced portrait of a teen struggling with adults who demand, but don't always deserve, respect. A subplot involving a school assignment about family roots and the Middle Passage feels somewhat patched on, but Coy connects the story's diverse elementsfamily secrets, his father's rages and homophobia, a burgeoning romance, football, and shifting friendshipsin a loose jumble that, like Miles' strong first-person voice, is sharply authentic, open ended, and filled with small details that signify larger truths. For another powerful look as the emotional lives of male teens athletes, suggest A.M. Jenkins' Damage (2001). Gillian Engberg

Kirkus 11/1/05
Miles is excited about his junior-year football season. He knows the sport, loves playing defense and even though his father can be overbearing, he's taught Miles basic skills and how to play smart and to respect the coach. Zach, who has been Miles's best friend and teammate, is transforming himself, now. He's not just bulking up, but passing out uppers and advocating shooting up steroids as something all players do. When the regular coach steps aside, belligerent inexperienced Coach Stahl takes over and Miles has to consider carefully how important is the sport to him and how much he wants to risk. Coy obviously knows the gridiron and uses crackback, a football term meaning a block coming from the outside and behind, to symbolize all the ways sudden changes or surprises in life can throw you for a loop. Coy makes fun of the stupid clichés that surround the sport while maintaining a strong love of the game, managing to integrate girlfriends, serious social history and family dynamics seamlessly. Most of the recent quality sports fiction has focused on basketball or wrestling, which makes this extra welcome. (Fiction. YA)

SLJ 12/1/05
COY, John. Crackback. 206p. CIP. Scholastic. 2005. Tr $16.99. ISBN 0-439-69733-6. LC 2004030972.
Gr 7 UpCoy takes the topic of football and weaves it in and out of other conflicts typical of teenage boys such as father/son relationships, girls, steroids, and realizing that there is more to life than just the game. Miles is a likable and talented player who tries to please everyone: coaches, his father, his teachers, and the girl he is interested in. Regardless of his efforts or his talents, he can't seem to satisfy his coach and winds up on the bench where he meets, and likes, the second-string players who have lives outside of footballsomething that has never occurred to Miles or his father. In addition, he refuses to take steroids, even though his teammates do. Through his struggles with his coach and his dad, he begins to learn that life is complicated and that answers don't always come in the form of X's and O's. The family secret that drives his father, the interesting girl who shows him that the world is a big place, and the intense, sometimes unbelievable coach who teaches him that you can't please some people, no matter what, give Miles a new, perhaps healthier, perspective. Boys will appreciate the well rounded characters and the plot that mixes sports with real life. It doesn't hurt that there is some great football action throughout.Julie Webb, Shelby County High School, Shelbyville, KY

Voice of Youth Advocates
(December 1, 2005; 0-439-69733-6; 978-0-