Sir Thursday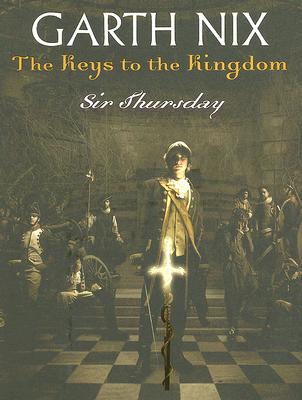 Sir Thursday
Scholastic Press, Hardcover, 9780439700870, 344pp.
Publication Date: March 2006
* Individual store prices may vary.
Shop Local
Enter your zip code below to find indies closest to you.
Description
On the fourth day there was war...
Following their adventures in the Border Sea, Arthur and Leaf head for home. But only Leaf gets through the Front Door. Arthur is blocked because someone . . . or something . . . has assumed his identity and is taking over his life.
Before Arthur can take action, he is drafted by Sir Thursday and forced to join the Glorious Army of the Architect. While Leaf tries to banish Arthur's doppleganger on earth, Arthur must survive his basic training, avoid getting posted to the Front and work out how he can free Part Four of the Will....
About the Author
Garth Nix is the bestselling author of many award-winning books, including The Abhorsen Trilogy, The Seventh Tower series, The Keys to the Kingdom series, and The Troubletwisters series (with Sean Williams). Garth lives in Sydney, Australia with his family and two budgerigars, who entertain many visiting parrots, but pretend not to be home when the neighbor's cats come by.
Praise For Sir Thursday…
VOYA
This new installment in Nix's fertile and outrageous Keys to the Kingdom series takes place immediately after Drowned Wednesday (Scholastic, 2005/VOYA August 2005). Having withstood the latest attack by the renegade Trustees of the Architect's Will, won the third Key to the Kingdom, and further strengthened his claim as the true Heir to the House (the primary universe to which the current world is a mere secondary appendage), Arthur wants nothing more than to return home. Unfortunately a Spirit-eater, an evil duplicate of Arthur, has taken his place in the real world, trapping this hero in the House. Things go from bad to worse, however, when simultaneously Arthur is suddenly drafted into the Army by Sir Thursday, one of the renegade Trustees who still remains at large, and the House itself is invaded by a large force of Nithlings, monstrous creatures who come from the Nothing that surrounds the Architect's entire creation. While Arthur's friend Leaf returns to the real world to do battle with the Spirit-eater, Arthur is first trained as a soldier and then sent on a near-suicidal mission by Sir Thursday. Nix's series is one of the more original and complex fantasies currently being published. It is well written, action packed, imaginative, and full of quirky memorable characters, but readers attempting to enter the series through this volume are likely to be quickly lost. It is best to begin with the first book, Mister Monday (2003/VOYA February 2004).-Michael Levy.

Booklist
Nix, Garth. Sir Thursday. Mar. 2006. 336p. Scholastic, $16.99 (0-439-70087-6).
Gr. 58. In the fourth of a projected seven-book series, young Arthur Penhaligon (also known as Lord Arthur, Rightful Heir of the Architect) wants nothing more than to return to his own world. Instead, he is drafted into Sir Thursday's army and led into battle. On the homefront, his friend Leaf fights against a stealth invasion. The pace lags initially, but picks up considerably along the way. This isn't for readers unfamiliar with the Keys to the Kingdom series; those kids should begin at the beginning, with Mister Monday (2003). Carolyn Phelan

SLJ
Gr 6-8The week just gets longer for Arthur Penhaligon in this fourth book in the series. After Drowned Wednesday's submission of the Will and her subsequent death, he is tricked into joining Sir Thursday's army as they fight a large group of Nithlings in a shifting maze. To complicate matters, Arthur must serve as one of the Piper's children, unable to use his powers as the Heir of the Will. Back on Earth, a Nithlin, disguised as Arthur, is infecting mortals with a plague that controls their minds. Old characters return, including Suzy and Leaf, to help Arthur in the fight against Thursday and his denizens of The House. Nix's new addition to the series is a good continuation of the story, covering two plots at once, with each chapter providing cliff-hangers. While the events move a little slower than in previous installments, there is satisfaction in the resolution, and, of course, a lead-in into the next addition, Lady Friday. Reluctant or hard to fit" readers will find this series enjoyable, as Nix is able to create vivid pictures in the minds of his readers. Fans of the fantasy genre will appreciate these books for their strong continuity, believable characters, and edge-of-your-seat-action. This offering complements the series' well-established structure.Richard J. Snyder, Inglewood Junior High School, Sammamish, WA