The Girl with the Broken Wing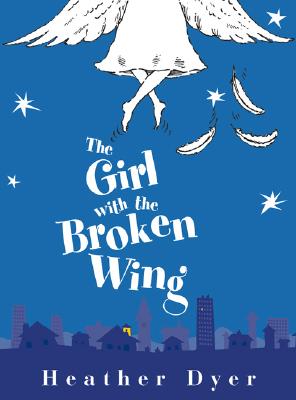 The Girl with the Broken Wing
Chicken House, Hardcover, 9780439748278, 147pp.
Publication Date: October 1, 2005
* Individual store prices may vary.
Buy at Local Store
Enter your zip code below to purchase from an indie close to you.
or
Not Currently Available for Direct Purchase
Description
The twins are in bed when it happens. They hear a sound like a wet cabbage hitting the wall. Then a clattering on roof tiles. Followed by a tapping at the window. It's a girl. With a broken wing. And she's here to stay.Who is she? Where did she come from? And, more important, what does she want? The twins have no idea. Perhaps she's their guardian angel. But would an angel have filthy feet? Would an angel...snore?
About the Author
Heather Dyer is the award-winning author of a picture book and three novels for 7-11 year olds. She grew up on Vancouver Island and in North Wales and the places where she grew up reappear as the settings of her books.


Praise For The Girl with the Broken Wing…
Kirkus 10/1/05
Amanda and James's science teacher says angels don't exist, because wing and body ratios are aeronautically impossible, so who is it that they're hiding in their attic bedroom? It's Hilary, who looks like a real angel with soft white wings from her shoulders almost to her feet, but she doesn't act like an ethereal saint. No glamorous entry into their lives, Hilary is depicted by Bailey's simple line drawings splayed onto their roof one windy rain-soaked night and then collapsed onto their sofa. Dyer creates a comic early-chapter book where the engaging humor is intensified by Amanda and James's perplexity as they scramble to protect their clueless "angel." They can't go to an adult for help because the adults won't believe and are silly about practicalities. Warm and funny revelations show the bored child-angel stuck in an eternity of too much hymn singing and do-gooding, exuberantly trying to participate in normal everyday fun before she has to go home. Ripe for a sequel. (Fiction. 7-9)

Booklist 11/1/05
Gr. 24, younger for reading aloud. As in The Fish in Room 11 (2004), about a boy and a mermaid, Dyer tells a warm story of friendship between children and a magical friendin this case, a young angel named Hilary. Twins James and Amanda are startled by a loud sound, like a wet cabbage hitting a wall." The noise announces the arrival of cold, wet-winged Hilary, who drops through a window and ends up leading the twins on some farcical adventures. Hilary is eager to share in the twins' daily activities, so different from her life at home, a place she alludes to as having lots of old people and songs but never discloses. Some children may have logistical questions (don't the parents realize that Hilary is in the house?), but the flying scenes are thrilling, and kids will chortle over the gentle comedy and the likable angel who longs to live like a regular kid. Bailey's ink illustrations hit just the right notes of humor and old-fashioned whimsy. A good chapter book for newly confident readers. Gillian Engberg
PW 10/24/05
The Girl with the Broken Wing
Heather Dyer, illus. by Peter Bailey. Scholastic/Chicken House, $15.99 (160p) ISBN 0-439-74827-5
In Dyer's The Fish in Room 11, a boy living in a seaside hotel hides the identity of a young mermaid. In this engaging if less resonant tale, twins Amanda and James take an angel, well, under their wing and keep her otherworldly secret hidden (with the help of an oversize duffle coat). The day after Hilary arrives at the siblings' window and announces that she thinks her wing is broken, logical James and imaginative Amanda conduct an amusing conversation about whether or not the winged girl could be in fact an angel. James argues that angels don't exist ("If they did, you'd see them on the news") and Amanda speculates that Hilary is of the guardian variety ("They're the ones who get sent to Earth to help people"). The impulsive, energetic angel proves hard to restrainbroken wing or not: she tags along on a family picnic, causes a ruckus on a class field trip and, in the story's most comical scenario, steals the show when she usurps the role of the student cast as the angel Gabriel in the school Nativity play, sending sheep and shepherds shrieking offstage. Bailey (who also illustrated Fish) once again illustrates the animated goings-on in cheery pen-and-inks that effectively depict Hilary straddling both land and skies. Appealing characters and Hilary's parting gift will give kids reason to smile (the angel's rebus farewell note hints at her return). Ages 7-10. (Oct.)

SLJ---DYER, Heather. The Girl with the Broken Wing. illus. by Peter Bailey. 150p. Scholastic/The Chicken House. 2005. Tr $15.99. ISBN 0-439-74827-5. LC number unavailable.
Gr 3-5On a dark and stormy night, James and Amanda discover a white-winged girl knocking on their attic skylight. Claiming to have a broken wing,