The Deep Blue Sea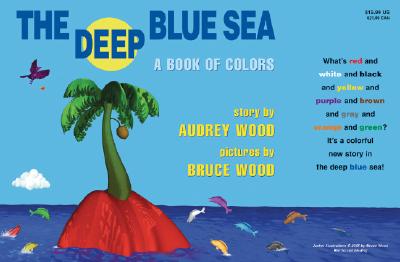 The Deep Blue Sea
A Book of Colors: A Book of Colors
Blue Sky Press (AZ), Hardcover, 9780439753821, 40pp.
Publication Date: September 1, 2005
* Individual store prices may vary.
Buy at Local Store
Enter your zip code below to purchase from an indie close to you.
or
Not Currently Available for Direct Purchase
Description
Readers will love learning their colors with this brightly illustrated, cumulative picture book by bestselling author Audrey Wood and her dynamic, digital-artist son, Bruce. Starting with a rock, a red rock, in the middle of the deep blue sea, the story takes a closer look at this tropical locale. The simple, repetitive text makes for a fun read-aloud for storytime or sharing, and identifying the vivid images and strong colors provides an exciting concept learning experience for young readers.
About the Author
Audrey Woodis theauthor ofmany beloved books for children, including the bestselling classicThe Napping House, its companion The Full Moon at the Napping House, Caldecott Honor Book King Bidgood's in the Bathtub, HeckedyPeg, Piggies, and Piggy Pie Po, all of which wereillustrated by her husband, Don Wood.The Woods divide their time between California and Hawaii.

Bruce Wood has been in the Department of Government at Manchester University since 1968, and is currently Dean of the Faculty of Economic and Social Studies. His previous books have been on the 1974 reforms of local government, on public policy-working in Britain, and on the regulation of doctors in the UK, USA and Germany. He chaired a health authority from 1989-1996 and serves on the board of his local hospice.
Praise For The Deep Blue Sea…
ooklist 7/1/05PreS. Following beginning concept books such as Alphabet,4dventure (2001) and Ten Little Fish (2004), this fourth title from the mother-son team team introduces basic colors with the neon-bright hues of the tropics. Bruce Wood's dimensional, computer-generated artwork shows a tiny desert island-a rock, reafly-in the middle of a deep blue sea. The simple, cumulative text adds a new object, and a new color, with each spread: a green trfe, a brown nut, a purple parrot, and an orange butterfly all appear, before a white cloud turns gray, a storm drenches the rock, and a rainbow forms. This isn't a necessary purchase, but the uncluttered spreads, brilliant colors, and tropical setting, populated with a few winsome creatures, will draw toddlers who are beginning to tackle the basics. - Gillian Engberg
SLJ 8/05
WOOD, Audrey. The Deep Blue Sea: A Book of Colors. illus. by Bruce Wood. unpaged. Scholastic/Blue Sky. Sept. 2005. RTE $15.99. ISBN 0-439-75382-1. LC 2004020759.
PreS-Gr 2Sharply focused, vividly hued artwork makes this concept book a standout. On each full-bleed spread, the cumulative text introduces a new color: There's the sea, the deep blue sea" is followed by There's a rock, a red rock in the middle of the deep blue sea." As the pictures zoom in closer to the rock, readers see a green tree, brown nut, purple parrot, orange butterfly, etc. Then a white cloud turns to gray, the yellow sun disappears, and it begins to rain. The final pages show the rock and all of its colorful inhabitants encircled by a rainbow. The rhythmic text is enticing and reads aloud smoothly. There are enough surprises to hold listeners' attention, and the language is simple enough for beginning readers. The digitally created illustrations are elegantly designed. Shadows and textures give the images a sense of movement. Children who look closely will see fish darting beneath the rippled sea, the reflection of the sun on the water's surface, and the nuances of the palm tree's trunk. Different shades of each hue are incorporated into the pictures, creating visual interest and showing youngsters that there are variations of colors. The words are printed in black, with the name of each color appearing in the appropriate hue. A real treat.Joy Fleishhacker, School Library Journal
KIRKUS 8/1
Awkward modeling mars the Photoshop-generated art of this otherwise slickly produced concept vehicle. The slender plotline opens with a calm blue sea, a blue sky and a small white cloudinto which a red rock, a green tree, a brown nut, a purple parrot and an orange butterfly are in turn introduced, subjected to a brief storm, then left again in tranquility. The sea, though, has a surface more like the top of a cloud layer than water, the rock seems to float over the tranquil water rather than emerge from it and the tree doesn't look attached to anything either. Despite bright hues, bold graphics and a simple text that introduces sequencing as well as colors, this isn't one of the Woods' better efforts. (Picture book. 3-5)

BCCB11/05







Ad
2-5 yrs

The only thing that interrupts the endless expanse of teal sky over deep blue water is a fluffy white cloud creeping across the opening spreads. Suddenly there's a rock, a red rock in the middle of the deep blue sea." From the rock springs a tree, a green tree on a red rock in the middle of the deep blue sea." And so the cumulative text spins out as the lonely island sprouts a brown nut, hosts a purple parrot and an orange butterfly with a black spot, and basks under a yellow sun, until that white cloud arrives and turns gray. Bright fishies (three in primary colors, three in secondary, and the four remaining in black, white, brown, and gray) encircle the island while a storm plays out and a rainbow arches over the diminishing drizzle. Then as the sun set