Poison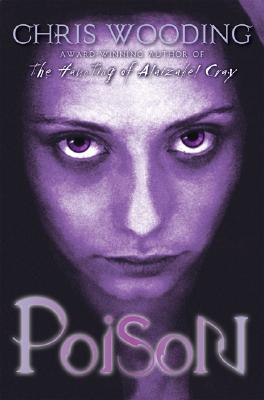 Poison
Orchard Books, Hardcover, 9780439755702, 273pp.
Publication Date: September 1, 2005
* Individual store prices may vary.
Buy at Local Store
Enter your zip code below to purchase from an indie close to you.
or
Not Currently Available for Direct Purchase
Description
Poison has always been a willful, contrary girl, prone to being argumentative and stubborn. So when her sister is snatched by the mean-spirited faeries, she seeks out the Phaerie Lord to get her back. But finding him isn't easy, and the quest leads Poison into a murderous world of intrigue, danger, and deadly storytelling. With only her wits and her friends to aid her, Poison must survive the attentions of the Phaerie Lord, rescue her sister, and thwart a plot that's beyond anything she (or the reader) can imagine. . . .
About the Author
Chris Wooding is the author of the Broken Sky series, which has sold more than 200,000 copies in the U.S. alone, and "The Haunting of Alaizabel Cray," which won the Silver Smarties Award.
Praise For Poison…
Booklist 8/05
Wooding, Chris. Poison. Sept. 2005. 288p. Scholastic/Orchard, $16.99 (0-439-75570-0).
Gr. 69. Although Wooding's second stand-alone youth fantasy has its share of violent deaths and other terrifying episodes, the title refers not to a deadly toxin but to its eponymous violet-eyed heroine. Quick-witted, fierce, and fed up with living in a community where residents view misfortune as inevitable, Poison fights back when her baby sister is spirited away by phaeries." She faces obstacles both physical and mental. In one pivotal scene, she meets her own creator, an all-powerful storyteller whose revelations prompt ruminations about self-determination and the nature of reality. Some readers won't appreciate the shift from familiar quest-story action to quiet, more metaphysical upheavals, and Poison doesn't emerge triumphant in the way that many will expect. Still, Wooding's serpentine plotting and lush, imaginative writing have something to offer to both the more mature audience of The Haunting of Alaizabel Cray (a 2004 Booklist Top Ten Fantasy for Youth) as well as slightly younger genre fans. Try this particularly on readers who enjoyed Angie Sage's Magyk (2005). Jennifer Mattson

HB 9/05
Chris Wooding Poison
273 pp. Orchard/Scholastic 9/05 ISBN 0-439-75570-0 $16.99 g
(Middle School, High School)
Wooding's first novel, The Haunting of Alaizabel Cray (rev. 11/04), was electrifying and deeply atmospheric; his second is even more so. When the self-named Poison's little sister is stolen by a ghoulish monster called the Scarecrow, she sets out to confront the Phaerie Lord to demand her sister's return. On her way she encounters the dangerous rotting man, Lamprey; the terrifying and cannibalistic Bone Witch, who guards the entrance to the fairy realm; and other antagonists including the malevolent part-spider, part-woman Lady Asinastra and the devious Scriddle. Such charismatic and well-imagined foes might have upstaged a lesser hero, but Poison's force of character -- courageous, self-reliant to the point of loneliness, and stubborn -- keeps her in the foreground and makes her ingenious ploys seem entirely credible. A plot thread in which Poison discovers that they are all only characters in a story bogs down in metafiction for a while, but Wooding pulls out of it and redeems the conceit by the end. In a novel almost unparalleled for density and invention, each scene of danger sings with tension. Lovers of adventure, horror, and suspense should keep an eye on this talented author. ANITA L. BURKAM

SLJ 9/1/05
WOODING, Chris. Poison. 273p. Scholastic/Orchard. Sept. 2005. Tr $16.99. ISBN 0-439-75570-0. LC number unavailable.
Gr 7-10Pale and thin, with long black hair and violet eyes, the sullen, moody girl named Poison is an appropriate heroine for this over-the-top gothic horror fantasy. The 16-year-old has never been out of the Black Marshes, one of the remote backwaters settled by humans in a Realm ruled by phaeries and inhabited by a cast of foul creatures that includes trolls, daemons, and a particularly nasty Spider Woman. When her baby sister is kidnapped and a changeling is left in her crib, Poison sets off for the Realm of Phaerie to rescue her. Her old friend and confidant, the elderly Fleet, who is acquainted with the world outside the Marshes, equips her with directions and money. But her greatest asset is her knowledge of old stories from the books in his library, for her quest leads her into adventures that seem to repeat familiar fairy tales. By the time she confronts Alethar, Lord of Phaerie, Poison has picked up an appealing cast of sidekicks who lighten the relentlessly horrific situations. As thunder and lightning crash, and rain pours down, the plot twists and turns toward an ending that may not surprise careful readers. Suffice to say that Poison is definitely the hero of her own story. Her destiny serve