Notes from the Midnight Driver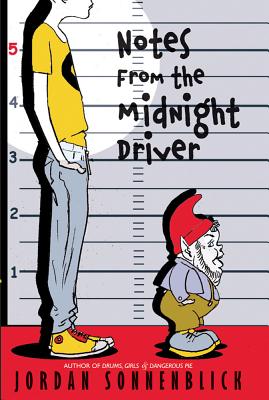 Notes from the Midnight Driver
Scholastic Press, Hardcover, 9780439757799, 265pp.
Publication Date: October 1, 2006
* Individual store prices may vary.
Not Currently Available for Direct Purchase
or
Shop Local
Enter your zip code below to purchase from an indie close to you.
Description
From hot new talent Jordan Sonnenblick, a "Tuesdays with Morrie" for teens.
16-year-old Alex decides to get even. His parents are separated, his father is dating his former third-grade teacher, and being 16 isn't easy, especially when it comes to girls. Instead of revenge though, Alex ends up in trouble with the law and is ordered to do community service at a senior center where he is assigned to Solomon Lewis, a "difficult" senior with a lot of gusto, advice for Alex, and a puzzling (yet colorful) Yiddish vocabulary. Eventually, the pair learn to deal with their past and each other in ways that are humorous, entertaining, and life changing.
About the Author
JORDAN SONNENBLICK is the author of "Dodger and Me" (Book 1) and "Dodger for President" (Book 2), both available in paperback from Square Fish. He is also the author of several acclaimed teen novels, including "Drums, Girls, and Dangerous Pie". He lives with his family in Bethlehem, Pennsylvania.
Praise For Notes from the Midnight Driver…
HB
Jordan Sonnenblick Notes from the Midnight Driver
265 pp. Scholastic 10/06 ISBN 0-439-75779-7 $16.99 g
(High School)
Overwhelmed by his parents' acrimonious separation and his own general teen angst, sixteen-year-old Alex gets drunk on his father's left-behind vodka, steals his mother's keys while she's out on a date, and crashes her car into the neighbor's front lawn, decapitating a lawn gnome in the process. (That this opening scene is hilarious will clue readers in to the book's lighthearted approach.) In what he feels is a grossly unjust dispensation of justice, Alex is sentenced to one hundred hours of community service at a nursing home and there assigned to Sol Lewis, a notoriously difficult resident with a penchant for practical jokes. What could have been a maudlin tale is instead understated and irreverent, containing only the slightest hint of finger-wagging in deference to its theme of taking responsibility. The main subplots -- Sol's past regrets and love of music (a passion he shares with Alex); Alex's burgeoning romantic feelings for Laurie, his "terrifying Goth pixie" best friend -- are organic and consistently enriching, though the relationship between Sol and Alex's sentencing judge feels a tad tidy. Sonnenblick (Drums, Girls & Dangerous Pie, rev. 1/06) deftly infiltrates the teenage mind to produce a first-person narrative riddled with enough hapless confusion, mulish equivocation, and beleaguered deadpan humor to have readers nodding with recognition, sighing in sympathy, and gasping with laughter--often on the same page.

Booklist Starred
While his mother is out on a first date, 16-year-old Alex decides to get drunk, steal her car, and drive to his father's home, hoping catch him romancing one of Alex's former teachers. His goal? Revenge. Reality? A damaged car, a decapitated gnome, a drunk driving charge, and community service. He is ordered to serve his 100 hours visiting Solomon Lewis, the meanest, crankiest resident at Egbert P. Johnson Memorial Home for the Aged. Alex discovers that Solomon is also witty, intelligent, and a fighteran old man who has lived all the joys, sorrows, and regrets of a long life. Sonnenblick has created a memorable cast of characters: acerbic Sol, a former famous jazz guitarist who is now dying of emphysema; narrator Alex, a budding guitarist with a tendency to make excuses rather than assume responsibility; and Alex's best friend Laurie, a tiny, pixielike karate master whom Sol refers to as Alex's wife." Even minor characters, such as Alex's parents and the judge, take on a heft and weight uncommon in YA literature, and teens will easily connect with Alex's epiphanies: You can't just throw someone out of your life when they displease you," and, We're all free to choose some people to love, and then do it." It all adds up to a funny, bittersweet tour de force. Frances Bradburn
PW Starred

Sonnenblick revisits several key themes from his debut novel,Drums, Girls & Dangerous Pie , to even greater effect here. Narrator Alex Gregory starts off by describing his maiden drinking episode: getting drunk alone, hijacking his mother's car in order to drive to his father's house and give the man a piece of his mind (his parents are separated), and taking an unplanned detour into a neighbor's yard, destroying a lawn gnome. What begins as humor takes on darker implications as the book progresses. Not because Alex has a drinking problem (he never takes another sip in the course of the book), but because of a drunk driver's impact on Sol Lewis, the resident of a nursing home to whom Alex is assigned by Judge J. Trent as part of his community service for his crime. Like Steven's Annette inDrums , Alex's female best friend, Laurie, sticks by him throughout this challenging time. And Sol, who starts out crotchety, turns out to be much wiser below the surface, and far more complicated. He even suggests to A