The Fall of the Amazing Zalindas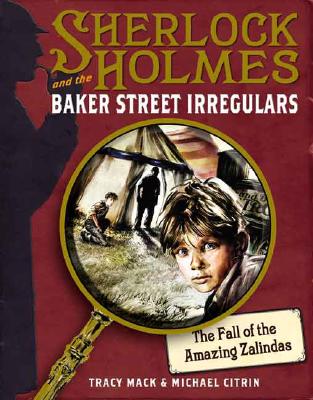 The Fall of the Amazing Zalindas
Orchard Books (NY), Hardcover, 9780439828369, 259pp.
Publication Date: September 1, 2006
* Individual store prices may vary.
Not Currently Available for Direct Purchase
or
Shop Local
Enter your zip code below to purchase from an indie close to you.
Description
Mysteries are the next big thing This is a new spin on the most famous detective stories of all time, focusing on the kids who helped Sherlock Holmes solve mysteries and save England from doom.
Sherlock Holmes stories captured readers' imaginations for more than a century. Now Tracy Mack and Michael Citrin will capture the hearts of a new generation with a unique new twist on these beloved mysteries.
Few know: Holmes was assisted by a band of devoted boys, street urchins who loved to solve mysteries, called the Baker Street Irregulars. These boys go everywhere, see everything, overhear everyone undetected. Now, in this exciting tale, Wiggins, Ozzie, Simon, and the rest--with the aid of Pilar, a gypsy girl--help Sherlock Holmes solve the case of the deaths of the Amazing Walendas.
About the Author
Mack is a book editor and a devoted yogini.



Greg Ruth (Illustrator) has created countless comic books for Dark Horse and other publishers, and has worked on videos for Prince and Rob Thomas, among others. He has also illustrated many children s books as well as graphic novels. He lives with his family in Massachusetts.
Praise For The Fall of the Amazing Zalindas…
Kikus
In a fresh go at an angle taken by Robert Newman back in the '80s, Mack and Citrin present
a hitherto-undocumented case from the point of view of the squad of street children Holmes
occasionally employed. Here, the theft of a hidden treasure from Buckingham Palace and the
deaths of three high-wire acrobats in a seeming accident are linked and the culprits identified.
This is thanks to sharp detective work by lead urchin Wiggins; his new young associate Ozzy, an
asthmatic, newly orphaned apprentice forger; and (to the discomposure of the misogynistic
Holmes) Pilar, a Romany fortuneteller's daughter with the handy ability to read lips. The authors
fold in plenty of characters and references from the Holmes canon, as well as an embedded code
that hints at sequels. They close with various notes on period hats, transportation and other topics.
Comics artist Ruth provides a few atmospheric illustrations to this fast-paced, authentically
styled caper. (cast list, endpaper map) (Fiction. 11-13)
. . .
pw
This "first casebook" in the Sherlock Holmes and the Baker Street Irregulars series puts a new twist on the success behind Scotland Yard's star detective. Readers familiar with Sherlock Holmes know that he relied on Dr. Watson, but Mack (Drawing Lessons) and her husband here reveal the role of the lesser-known Baker Street Irregulars, an "extremely enthusiastic and loyal gang of homeless boys." (Since Watson is the "author" of the detective's stories, the boys believe he's played down their contributions out of jealousy, and, indeed, Watson says of them: "With troops like these, we would have lost India long ago.") Led by the street-smart Wiggins and Ozzie, a scrivener's apprentice, the Irregulars investigate the link between the murders of three circus tightrope walkers (the title Zalindas) and the theft of a valuable book from Buckingham Palace. The introduction of the large cast of characters slows the pace a bit, but the authors vividly evoke the realities of 19th-century London. The Irregulars are a heartbreaking bunch, including Stitch, son of an Irish tailor whose family perished in a fire, and Rohan, whose fisherman father was lost at sea. The plotting involves red herrings and narrow escapes, and though Holmes solves the case, the boys remain at the heart of the action. The concluding "Facts and practicals for the aspiring detective" and Ruth's half-tone illustrations of the famous fellow and this motley young crew add to the elegant feel of the volume. Ages 9-12. (Sept.)

Booklist
A gang of street urchin detectives shines in this lively series debut by a husband-wife team. When the tightrope artists the Amazing Zalindas fall to their deaths, Sherlock Holmes suspects foul play and enlists the youthful "street sleuths," who find ties between the deaths and a valuable stolen book. Colorful, well-defined characters--from gang leader Wiggins to lively Pilar, the circus fortune-teller's daughter--and plenty of historical detail, Cockney slang (a glossary would have been helpful), and Sherlockian references bring Victorian England to life. Vintage-style design elements and evocative black-and-white illustrations further the effect. A pleasing package and a good start to the Sherlock Holmes and the Baker Street Irregulars series, this is an entertaining, suspenseful read for youthful crime buffs. Shelle