Tyrell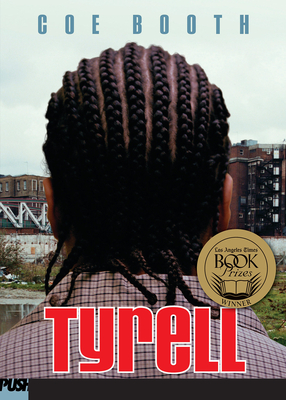 Tyrell
Push, Paperback, 9780439838801, 310pp.
Publication Date: September 1, 2007
* Individual store prices may vary.
Buy Now
or
Shop Local
Enter your zip code below to purchase from an indie close to you.
Description
Tyrell is a young African-American teen who can't get a break. He's living (for now) with his spaced-out mother and little brother in a homeless shelter. His father's in jail. His girlfriend supports him, but he doesn't feel good enough for her -- and seems to be always on the verge of doing the wrong thing around her. There's another girl at the homeless shelter who is also after him, although the desires there are complicated. Tyrell feels he needs to score some money to make things better. Will he end up following in his father's footsteps?
Praise For Tyrell…
rkus
After his DJ father is incarcerated for drug dealing, 15-year-old Tyrell, his brother and his mother
are rendered homeless and move to a slummy city shelter in the Bronx. His mom's ineffectual attempts
at keeping the family afloat financially and emotionally soon fall flat, and Tyrell is forced to take the
family's situation into his own hands. Inspired by his father, he decides to throw a secret dance party
in an abandoned bus garage with a steep admission charge guaranteed to boost his family's income.
Booth, a writing consultant for the NYC Housing Authority, clearly understands how teens living on
the edgein shelters, in projects, on the streetlive, talk and survive. It's the slick street language of
these tough but lovable characters and her gritty landscapes that will capture the interests of urban
fiction fans. While the complex party-planning plotline doesn't exactly cut a straight path, its
convoluted-ness undoubtedly illustrates the kinds of obstacles these teens must overcome and the
connections they need to make in order to surviveinside or outside the law. (Fiction. YA)
. . .

*STAR*Booklist
You don't hardly get to have no kinda childhood in the hood." At 15, Tyrell, is trying to keep his little brother in school and safe in their roach-infested shelter in the Bronx. He's dropped out of school, and Moms wants want him to sell weed to make money. But Tyrell is too smart. He doesn't want to end up in prison like his dad, so he tries to organize a neighborhood party to raise money. His girlfriend, Novisha, isn't happy that Tyrell has dropped out. She loves him, and they make out, but he respects her wish to remain a virgin. Booth, who was born and raised in the Bronx, is now a social worker there, and her first novel is heartbreakingly realistic. There are some plot contrivancesincluding Tyrell's stumbling upon Novisha's diarybut the immediate first-person narrative is pitch-perfect: fast, funny, and anguished (There's also lots of use of the n-word, though the term is employed in the colloquial sense, not as an insult). Unlike many books reflecting the contemporary street scene, this one is more than just a pat situation with a glib resolution; it's filled with surprising twists and turns that continue to the end. Hazel Rochman