Lush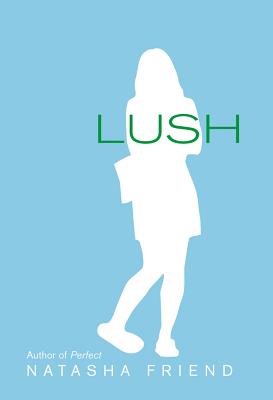 Lush
Scholastic Paperbacks, Hardcover, 9780439853460, 178pp.
Publication Date: October 1, 2006
* Individual store prices may vary.
Not Currently Available for Direct Purchase
or
Shop Local
Enter your zip code below to purchase from an indie close to you.
Description
Natasha Friend is a Judy Blume for today -- clearly evident in this remarkable new novel about a girl whose father is an alcoholic and how she and her family learn to deal with it.
It's hard to be a 13-yr-old girl. But it's even harder when your father's a drunk. It adds an extra layer to everything -- your family's reactions to things, the people you're willing to bring home, the way you see yourself and the world. For Samantha, it's something that's been going on for so long that she's almost used to it. Only, you never get used to it. Especially when it starts to get worse...
A bold, honest Scholastic Press debut from Natasha Friend.
About the Author
Natasha Friend was born to an English professor father and a poet/actress mother. She was raised in a house without a television. At the time, she thought this was the worst form of child abuse. Now, she understands the method to her parents' madness: they wanted her to be a reader. Spending most of her childhood at the Hamilton Public Library, Natasha found her mecca, the young-adult section, and her hero, Judy Blume. She, too, wanted to write stories about girls who felt alone. Girls whose parents were screw-ups. Girls with spunk and spirit and resolve. Natasha began dictating stories to her father, who typed them up on his 1930's Remington typewriter. Most involved rainbows, unicorns, and poor orphan girls discovering treasure. She knew she was supposed to be a writer in seventh grade, when a sweet boy gave her a love poem and she felt compelled to correct it for syntax and rhyme scheme. Today, Natasha is the award-winning author of Perfect, Lush, Bounce, For Keeps, and My Life in Black and White. When she isn't writing, she is building forts and making chocolate-chip pancakes. Natasha lives on the Connecticut shoreline with her husband, three children, and dog, Beckett.
Praise For Lush…
Kirkus
After years of pretending she has a normal" family, a worried teen finally confronts her father's
alcoholism. Thirteen-year-old Samantha knows her father has a drinking problem, but her parents
seem oblivious. Sam's father makes empty promises to stop drinking while her mother immerses
herself in yoga classes, defending her husband as a good man." Although Sam carefully camouflages the situation by inviting friends over only when her father's away, his binges are getting worse and she's afraid he will lose control. Desperate to confide in someone other than her friends, Sam leaves notes in the library asking for advice from an older girl she doesn't really know. When her drunken father injures her little brother and the family's future is jeopardized, Sam must deal with anger and uncertainty as she makes some surprising discoveries about her family, her friends and herself. Sam comes across as a savvy as well as naïve teen who tells her own story with humor, honesty and hope. Realistic family drama. (Fiction. 12-15)

SLJ
To the outside world, 13-year-old Samantha's family seems perfectly happy. However, they are struggling to keep her architect father's alcoholism a secret, and the balancing act of enabling his addiction and protecting their image is becoming more and more difficult. Sam longs to be able to share her burden with a friend and reaches out by leaving an anonymous autobiographical letter in a library book. Her anger and frustration are palpable as she struggles with her love for her dad despite the fact that his promises to clean up never materialize. When Sam is chastised by her mother and grandmother for not believing in his ability to change, readers will sympathize with the injustice of her difficult situation. Yet, the author avoids a maudlin tone by infusing the plot with details of typical teen life, such as Sam's crush on an older boy and embarrassment at her developing body. Witty dialogue and smooth writing move the novel along at a clipped pace, and tension is successfully built and maintained as the teen's father's illness takes a dangerous turn, her budding relationship comes to a head, and her anonymous library pen pal is revealed. Despite the minor appearance of a stereotypical librarian, this is a perceptive novel featuring a likable protagonist to whom readers will easily relate. As in Perfect (Milkweed, 2004), Friend adroitly portrays a weighty topic with touches of humor and grace.Rebecca M. Jones, Fort Myers-Lee County Library, FL

Booklist
Thirteen-year-old Samantha's father is an alcoholicwhen he's sober, he's a great guy, but when he's drunk, he's scary and abusive. With her mother in denial and a 4-year-old brother to protect, Sam writes a note asking for advice and leaves it in the library, hoping an older girl she admires will write back to her. So begins a correspondence in which Sam opens up about her father's alcoholism, as well as her crush on an older boy. In turn, the letter writer, who goes only by initials, reveals some hard truths. As she did so well in Perfect (2005), Friend takes a teen problem and turns it into a believable, sensitive, character-driven story, with realistic dialogue. The cautiously optimistic ending works, because Friend has convinced readers that Sam can handle whatever happens. Friend, who clearly understands and empathizes with young teens, is a writer to watch. Debbie Carton