A Curse Dark as Gold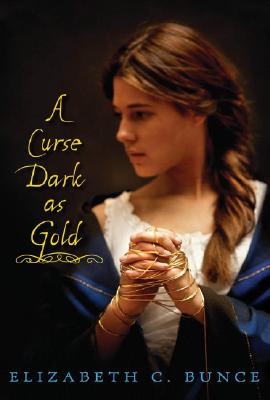 A Curse Dark as Gold
Arthur A. Levine Books, Hardcover, 9780439895767, 395pp.
Publication Date: March 1, 2008
* Individual store prices may vary.
Buy at Local Store
Enter your zip code below to purchase from an indie close to you.
or
Buy Here
Description
"If you'll allow me to demonstrate, I do think I could be of some help to you here."
I smiled tightly. "You'd have to be able to make gold appear from thin air to be much help to us now, I'm afraid."
"Gold, you say?" he said quietly. "Well, not out of the air, maybe, but--" He reached toward Rosie and drew a length of straw free from her hat. From out of a pocket in his jacket appeared an old-fashioned handheld drop spindle, the kind no one uses anymore, and he sent it spinning with a turn of his hand. Slowly, as we watched, he drew out the straw and spun it--spun it! (CONT.)
As if it were a roving of wool! Rosie and I stood there and watched him, moment by moment, as the spindle bobbed and twirled. Something pulled out from the brown straw and through his knobby fingers, and where it should have gone onto the spindle, the finest strands of gleaming gold threads appeared. Round and round the spindle went, and the gleaming of gold turned with it. I don't know how long we watched it, turning and turning, flashing gold with every revolution. I could not take my eyes away.
About the Author
Elizabeth C. Bunce's first novel, A CURSE DARK AS GOLD, won the ALA's William C. Morris Award for a YA debut. Elizabeth cuts, sews, and embroiders both cloth and stories at her home near Kansas City, Missouri. Please visit her website at www.elizabethcbunce.com.