The Clone Codes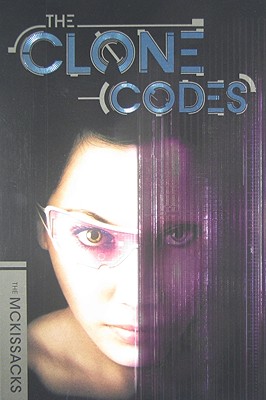 The Clone Codes
Scholastic Press, Hardcover, 9780439929837, 173pp.
Publication Date: February 1, 2010
* Individual store prices may vary.
Buy Now
or
Shop Local
Enter your zip code below to purchase from an indie close to you.
Description
The Cyborg Wars are over and Earth has peacefully prospered for more than one hundred years. Yet sometimes history must repeat itself until humanity learns from its mistakes. In the year 2170, despite technological and political advances, cyborgs and clones are treated no better than slaves, and an underground abolitionist movement is fighting for freedom. Thirteen-year-old Leanna's entire life is thrown into chaos when The World Federation of Nations discovers her mom is part of the radical Liberty Bell Movement.
After her mother's arrest for treason, Leanna must escape as she is chased by a ruthless bounty hunter. Soon Leanna finds herself living among the Firsts, and nothing will ever be the same again. But what does The World Federation want with the daughter of a traitor? So much is uncertain. Danger hides everywhere. Fear takes over. With help from unlikely sources, Leanna learns the origin of The Liberty Bell Movement and how its members may have answers about her past-and her new reality.
As family secrets are revealed, Leanna must face startling truths about self-identity and freedom. Through time travel, advanced technologies, and artificial intelligence, this exhilarating adventure asks what it means to be human and explores the sacrifices an entire society will make to find out.
Acclaimed authors Patricia C. McKissack and Frederick L. McKissack have collaborated with their son, John to deliver a novel that is as suspenseful as it is searing.
About the Author
Patricia C. McKissack is the author of many highly acclaimed books for children, including "Goin' Someplace Special, " a Coretta Scott King Award
winner; "The Honest-to-Goodness Truth; Let My People Go, " written with her
husband, Fredrick, and recipient of the NAACP Image Award; "The Dark-Thirty, " a Newbery Honor Book and Coretta Scott King Award winner; and "Mirandy and Brother Wind, " recipient of the Caldecott Medal and a Coretta Scott King Honor Book. She lives in St. Louis, Missouri.