Sunset Limited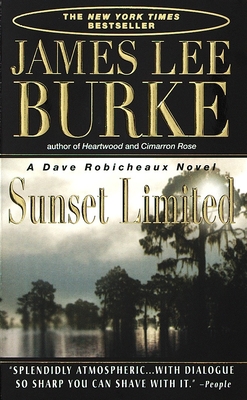 Sunset Limited
Island, Mass Market Paperbound, 9780440223986, 416pp.
Publication Date: July 2, 1999
* Individual store prices may vary.
Buy Now
or
Shop Local
Enter your zip code below to purchase from an indie close to you.
Description
In a land soaked with sin, Dave Robicheaux is dueling with killers, ghosts, and a woman's revenge....

The townspeople of New Iberia, Louisiana, didn't crucify Megan Flynn's father. They just didn't catch whoever pinned him to a barn wall with sixteen-penny nails.

Decades later, Megan, now a world-famous photojournalist, has come back to the bayou, looking for cop Dave Robicheaux. It was Dave who found the body of labor leader Jack Flynn. The sight changed the boy, shaped him as a man. And after forty years, Robicheaux is still haunted by the bizarre unsolved slaying.

Now Megan's return has stirred up the ghosts of the long-buried past, igniting a storm of violence that will rip apart lives of blacks and whites in this bayou county. And for a good cop with bad memories, hard desires, and chilling nightmares, the time has come to uncover the truth.
About the Author
James Lee Burke, a rare winner of two Edgar Awards, and named Grand Master by the Mystery Writers of America, is the authorofmore thanthirtyprevious novels andtwo collections of short stories, including such "New York Times" bestsellers as "Light of the World", "Creole Belle", "Swan Peak", "The Tin Roof Blowdown", and "Feast Day of Fools".He lives in Missoula, Montana.
Praise For Sunset Limited…
"Splendidly atmospheric...with dialogue so sharp you can shave with it."
--People

"One of the best novels of the year from one of the very best writers at work today."
--Rocky Mountain News

"Engrossing...a vivid, violent fable...James Lee Burke outshines himself in Sunset Limited."
--Daily News (N.Y.)

"America's best novelist."
--The Denver Post

"Top-drawer work...James Lee Burke just keeps getting better...Burke writes of the bayous, their people and their violence with electrical luminescence. The dialogue crackles like heat lightning and the story races from conflict to conflict. Robicheaux, a modern-day tragic hero, continues to grow as one of crime fiction's major figures."
--San Antonio Express-News

"Burke's dialogue sounds true as a tape recording; his writing about action is strong and economical. . . . Burke is a prose stylist to be reckoned with."
--Los Angeles Times Book Review

"Burke flies miles above most contemporary crime novelists."
--The Orlando Sentinel

"Among writers in the genre, only Tony Hillerman's novels about the Navajo tribal police match Burke's ability to write evocatively about the natural world. . . . It's hard to imagine readers not bolting it  down like a steaming plate of crawfish etouffee."
--Entertainment Weekly

"Burke writes prose that has a pronounced streak of poetry in it."
--The New York Times

"James Lee Burke isn't simply a crime writer--he's the Graham Greene of the bayou."
--New York Daily News

"If you haven't already discovered Burke's novels, find one!"
--Chicago Tribune

"James Lee Burke can write some of the best scenes of violence in American literature. He can also toss out a metaphor or a brief descriptive phrase that can stop a reader cold."
--The Washington Post Book World

"It has become apparent that not since Raymond Chandler has anyone so thoroughly reinvented the crime and mystery genre as James Lee Burke."
--Jim Harrison, author of Legends of the Fall

"If you haven't read Burke, get going."
--Playboy

"Nobody working in the genre holds us more compellingly than Mr. Burke, or with such style and ferocity. He stands all but alone in the invention of character."
--The New Yorker

"One of our most compelling novelists."
--New York Newsday

"Few writers in america can evoke a region as well as Burke."
--The Philadelphia Inquirer

"Robicheaux is a detective to be reckoned with, more interesting than Spenser, more complex and satisfying than Travis McGee . . . James Lee Burke is a writer to be remembered."
--USA Today

"Burke writes prose as moody and memory-laden as his region."
--Time

"Burke tells a story in a style all his own; language that's alive, electric; he's a master at setting mood, laying in atmosphere, all with quirky, raunchy dialogthat's a delight."
--Elmore Leonard

"It's hard to deny the powerful impact of Mr. Burke's hard-boiled poetics."
--The Wall Street Journal