Lord of the Deep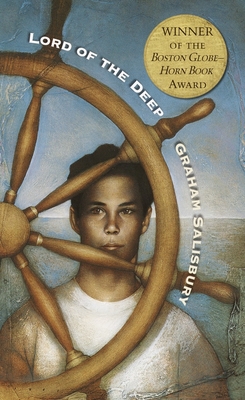 Lord of the Deep
Laurel Leaf Library, Mass Market Paperbound, 9780440229117, 192pp.
Publication Date: March 11, 2003
* Individual store prices may vary.
Buy at Local Store
Enter your zip code below to purchase from an indie close to you.
or
Buy Here
Description
Fishing. This is it, the big time. Mikey's 13, a deckhand working on a charter boat in Hawaii. Working for the best skipper anywhere, his stepdad, Bill. Before Bill came along, it was just Mikey and his mom. Now they're a real family, and Mikey has a little brother. He can't believe how lucky he is. And now he's learning from the best, even though he's only 13. Because Bill believes in him. And Mikey won't let him down. He loves fishing and being out on the boat. But some seas, some fish, and some charter clients are a lot tougher to handle than Mikey ever imagined. Take Ernie and Cal-they chartered Bill's boat for three days and they?re out for the adventure of their lives. Now it's up to Mikey and Bill to deliver it.


From the Hardcover Library Binding edition.
About the Author
Graham Salisbury writes from the heart and draws on his own experiences of growing up in Hawaii. His drive to write about the emotional journey that kids must take to become adults in a challenging and complicated world is evident through his work. Says the author: "I've thought a lot about what my job is, or should be, as an author of books for young readers. I don't write to teach, preach, lecture, or criticize, but to explore. . . . And if my stories show [characters] choosing certain life options, and the possible consequences of having chosen those options, then maybe I will have finally done something worthwhile. Wonder of wonders."
Salisbury has already done something worthwhile. His first novel, "Blue Skin of the Sea," won the PEN/Norma Klein Award, the Bank Street Child Study Award, and the "Parents' Choice" Book Award, and was selected as an NCTE Notable Trade book in the Language Arts, a "School Library Journal" Best Book of the Year, and an ALA Best Book for Young Adults.
His second novel, "Under the Blood-Red Sun" has won the prestigious Scott O'Dell Award for Historical Fiction, the 1998 Hawaii Nene Award, as well as numerous other honors. This powerful and poignant book is the moving story of a Japanese American boy caught in the aftermath of the bombing of Pearl Harbor.
"Shark Bait "is" "a fast-paced, exciting action story that explores the lure of violence and its consequences for a boy and his friends when a Saturday night tumult stuns a Hawaiian village. To read a letter to educators and hear an excerpt from the book, along with pronunciations of the unusual words and character names from the novel, click here.
The most recent novel from Salisbury,"Lord of the Deep," enticingly combines the high action of fishing with a narrative that delves into the intricate relationship between a 13-year-old boy and his new stepfather.
Born in Hawaii, Graham Salisbury is a descendant of the Thurston and Andrews families, who were among the first missionaries to arrive in the Hawaiian Islands. He grew up on the islands of Oahu and Hawaii. Later, he graduated from California State University and received an MFA degree from Vermont College of Norwich University. Salisbury has worked as the skipper of a glass-bottomed boat, as a deckhand on a deep-sea fishing boat, as a musician, and also as an elementary school teacher. Today, he lives with his family in Portland, Oregon, where he manages a historic office building.