Dark Angel/Lord Carew's Bride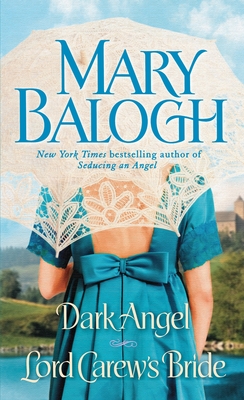 Dark Angel/Lord Carew's Bride
Dell Publishing Company, Mass Market Paperbound, 9780440245445, 593pp.
Publication Date: February 23, 2010
* Individual store prices may vary.
Shop Local
Enter your zip code below to find indies closest to you.
Description
From "New York Times" bestselling author Mary Balogh come two classic tales of love turned dangerous, set amid the splendor of Regency England a time rife with passion, betrayal, and intrigue.
DARK ANGEL
Jennifer Winwood has been engaged for five years to a man she hardly knows but believes to be honorable and good: Lord Lionel Kersey. Suddenly, she becomes the quarry of London's most notorious womanizer, Gabriel Fisher, the Earl of Thornhill. Jennifer has no idea that she is just a pawn in the long-simmering feud between these two headstrong, irresistible men or that she will become a prize more valuable than revenge.
LORD CAREW S BRIDE
Jennifer's cousin Samantha Newman is smarting after she too is toyed with by Lord Kersey. In the midst of her heartbreak, she seeks solace from her new friend, the disabled gardener Hartley Wade. If only she knew that Hartley is secretly Lord Carew, and that he hides more than extraordinary wealth: a passionate secret held deep in his heart that only her love can reveal.
About the Author
Mary Balogh is the New York Times bestselling author of the acclaimed Slightly series and Simply quartet of novels set at Miss Martin s School for Girls, as well as many other beloved novels. She is also the author of First Comes Marriage, Then Comes Seduction, At Last Comes Love, and Seducing an Angel, all featuring the Huxtable family. A former teacher, she grew up in Wales and now lives in Canada.