Summer of the Monkeys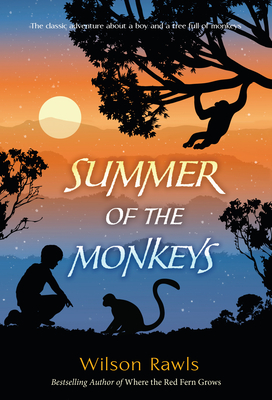 Summer of the Monkeys
Yearling Books, Paperback, 9780440415800, 288pp.
Publication Date: December 28, 1998
* Individual store prices may vary.
Buy at Local Store
Enter your zip code below to purchase from an indie close to you.
or
Buy Here
Description
The last thing a fourteen-year-old boy expects to find along an old Ozark river bottom is a tree full of monkeys. Jay Berry Lee's grandpa had an explanation, of course--as he did for most things. The monkeys had escaped from a traveling circus, and there was a handsome reward in store for anyone who could catch them. Grandpa said there wasn't any animal that couldn't be caught somehow, and Jay Berry started out believing him . . .

But by the end of the "summer of the monkeys," Jay Berry Lee had learned a lot more than he ever bargained for--and not just about monkeys. He learned about faith, and wishes coming true, and knowing what it is you really want. He even learned a little about growing up . . .

This novel, set in rural Oklahoma around the turn of the century, is a heart-warming family story--full of rich detail and delightful characters--about a time and place when miracles were really the simplest of things...
About the Author
Wilson Rawls grew up on a small farm in the Ozark Mountains of Oklahoma. There were no schools where he lived so his mother taught Rawls and his sisters how to read and write. He says that reading the book "The Call of the Wild "changed his life and gave him the notion that he would like to grow up to write a book like it. He shared his dream with his father, and his father gave him the encouraging advice, "Son, a man can do anything he sets out to do, if he doesn't give up." Rawls never forgot his father's words, and went on to create two novels about his boyhood that have become modern classics.
"From the Trade Paperback edition."