Sammy Keyes and the Curse of Moustache Mary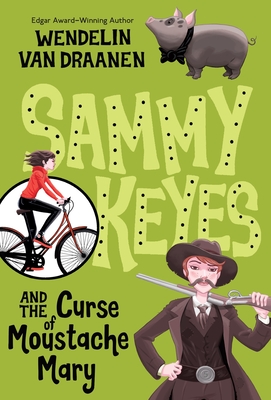 Sammy Keyes and the Curse of Moustache Mary
Yearling Books, Paperback, 9780440416432, 256pp.
Publication Date: February 13, 2001
* Individual store prices may vary.
Buy at Local Store
Enter your zip code below to purchase from an indie close to you.
or
Buy Here
Description
"The most winning junior detective ever in teen lit. (Take that, Nancy Drew )" Midwest Children's Book Review
When Sammy and her friends meet Lucinda Huntley walking her 200-pound pig down the middle of the road, their quiet weekend in the country quickly becomes an adventure. Lucinda tells them a true tale of the Wild West, her great-grandma Moustache Mary, and a century-old family feud.
But this feud is hardly ancient history. Past and present collide and combust when Mary's pioneer cabin burns to the ground. Sammy thinks the cause of the fire may be a hundred years old, but still, the gas can she finds near the scene of the crime is shiny and new. . . .
The Sammy Keyes mysteries are fast-paced, funny, thoroughly modern, and true whodunits. Each mystery is exciting and dramatic, but it's the drama in Sammy's personal life that keeps readers coming back to see what happens next with her love interest Casey, her soap-star mother, and her mysterious father.
About the Author
Books have always been a part of Wendelin Van Draanen s life. Her mother taught her to read at an early age, and she has fond memories of story time with her father, when she and her brothers would cuddle up around him and listen to him read stories. Growing up, Van Draanen was a tomboy who loved to be outside chasing down adventure. She did not decide that she wanted to be an author until she was an adult. When she tried her hand at writing a screenplay about a family tragedy, she found the process quite cathartic and from that experience, turned to writing novels for adults. She soon stumbled upon the joys of writing for children. Feedback from her readers is Van Draanen s greatest reward for writing. One girl came up to me and told me I changed her life. It doesn t get any better than that, she said. Van Draanen hopes to leave her readers with a sense that they have the ability to steer their own destiny that individuality is a strength, and that where there s a will, there s most certainly a way. Wendelin Van Draanen is the winner of the 1999 Edgar Allan Poe Award for Best Children s Mystery Book for Sammy Keyes and the Hotel Thief and lives with her husband and two sons in California."
Praise For Sammy Keyes and the Curse of Moustache Mary…
Praise for Sammy Keyes:
"A treat for mystery lovers." -- Los Angeles Times Book Review