Emily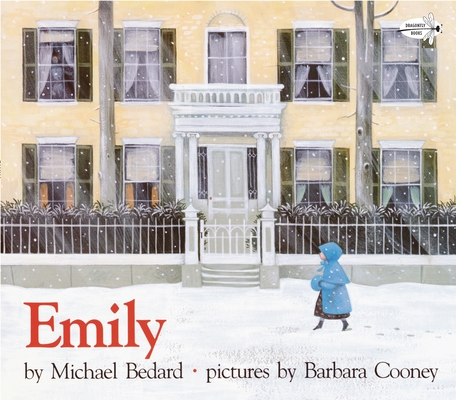 Emily
Dragonfly Books, Paperback, 9780440417408, 32pp.
Publication Date: October 8, 2002
* Individual store prices may vary.
Buy at Local Store
Enter your zip code below to purchase from an indie close to you.
or
Buy Here
Description
From Michael Bedard and Caldecott-winning illustrator Barbara Cooney comes a " book to read aloud and share" about American poet Emily Dickinson and the young girl who befriends her ("SLJ").
A young girl who lives across the street from the reclusive Emily Dickinson gets her chance to meet the poet when her mother is invited to play the piano for Emily. The girl sneaks up to Emily's room and exchanges a small gift for an authentic poem, which is included in the book.
""
This fictionalized encounter is, like a Dickinson sonnet, a quiet gem unassuming upon first glance, it is in fact deeply lustrous, with new facets becoming apparent the longer one looks Bedard's unnamed narrator speaks with the piercing clarity and insight particular to sensitive children Bedard] uses diction and imagery that might have been the poet's own strong, sure language whose force derives from its very economy; small but potent details from nature and domesticity. Judiciously employing alliteration, rhyme, assonance and echoes--"Like flakes of flowers the words fell to the sheets. I listened to them fall and fell asleep"--his prose moves with the rhythms and lyricism of poetry, yet retains a child's straightforward, unselfconscious voice throughout. Caldecott Medalist Cooney's oils richly capture the story's subtly shifting moods, from the utter stillness of a street bathed in moonlight and swaddled in snow to the vigor of a sun-flooded room full of growing plants. They visually extend the text's Dickinsonian personification of nature ("There was no one there but winter, all in white") and contain skillful echoes of their own: at different points in the story the child and poet are shown sitting alone on the landings of their respective houses, a visual reinforcing of their special kinship. And in their tranquil beauty these paintings testify to the mysteries and wonders of even the everyday. "Publishers Weekly"
In this imaginative and unusual picture book... the language of the text is lyrical The illustrations convey a sense of place and time long ago, from drawing rooms to clothing. This is a picture book to read aloud and share Readers] will find that Bedard's charming story demystifies the person and offers some understanding of her odd behavior. "SLJ"
" "Two time Caldecott award winning illustrator Barbara Cooney's richly detailed oil paintings enhance the moving story of Dickinson's extraordinary private life. "Children's Literature.
About the Author
Michael Bedard has written several novels and picture books for young readers, including "Emily," a picture book about Emily Dickinson illustrated by Barbara Cooney. He lives in Toronto with his wife and children.

Emily Arnold McCully is the author and illustrator of more than twenty books for young readers, including "Starring Mirette and Bellini," "The Ballot Box Battle, the Bobbin Girl, " and "Mirette on the highwire," which won the Caldecott Medal. She has also illustrated more than a hundred books by other authors. She lives in New York City and Chatham, New York.