The Tasters Guild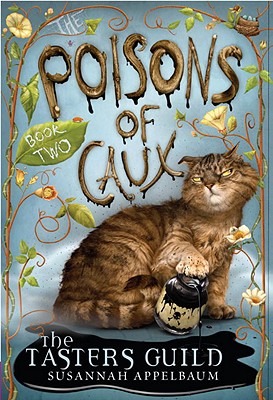 The Tasters Guild
Bluefire, Paperback, 9780440422488, 366pp.
Publication Date: August 9, 2011
* Individual store prices may vary.
Buy at Local Store
Enter your zip code below to purchase from an indie close to you.
or
Not Currently Available for Direct Purchase
Description
"The Poisons of Caux, Book II
A macabre and funny fantasy trilogy"
After the perilous adventure of The Hollow Bettle (Book I), the dark reign of the Nightshades is over at last, and a new day has arrived in Caux, a land long ruled by poison and deceit. The ancient Prophecy-the coming of a Noble Child to cure the one, true King-has finally begun.
But fear still grips the people of Caux, for they live in the shadow of the powerful, poisonous Tasters' Guild. Sequestered high within its corrupt walls sits Vidal Verjouce, the Guild's diabolical Director, his dark magic more potent than ever. Eleven-year-old Ivy, famed healer and Noble Child, and her friend and taster Rowan must venture inside the Guild itself if they are to find the door to their sister world, Pimcaux-and fulfill the Prophecy. But a deadly weed-once thought extinct-threatens their journey: scourge bracken, a plant dedicated to domination and destruction, also known, ominously, as Kingmaker. Who else has detected it? And will Ivy's remarkable gift-her dominion over plants and nature-be enough to thwart it?
Susannah Appelbaum's imagination soars with poison inks, flower codes, catacombs, secret crypts, and sinister twists in this middle volume of the macabre and magical Poisons of Caux fantasy trilogy.

"From the Hardcover edition.
About the Author


Jennifer Taylor is a writer and editor whose books include "Test Your Dog: The Dog IQ Test". She has worked on grant writing, program design, and evaluation for over 100 social justice projects, including educational programs for minorities and disease prevention in West Africa.
Praise For The Tasters Guild…
Booklist, November 15, 2010
"Poison Ivy and her friends search for a magical doorway on their quest to save the king from his illness and deliver the people of Caux from the clutches of the malevolent guild of food testers. Can Ivy find the king before the guild finds her? In this second book in the Poisons of Caux series, Appelbaum continues to thrill and enchant with vivid descriptions and inspired plot twists. Here is an imaginary place to stand alongside Harry Potter's world, replete with tasty villains and true-hearted heroines, and a worthy next step from Kate DiCamillo's Tale of Despereaux (2003) or Brian Jacques' Redwall series."