Four Screenplays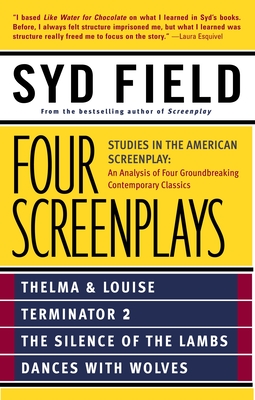 Four Screenplays
Studies in the American Screenplay
Delta, Paperback, 9780440504900, 336pp.
Publication Date: August 1994
* Individual store prices may vary.
Shop Local
Enter your zip code below to find indies closest to you.
Description
In a field being transformed by technology, Syd  Field shows you what works and why and how to find  new ways to create a truly outstanding film using  four extraordinary examples: Thelma &  Louise, Terminator 2: Judgement  Day, The Silence Of The  Lambs, and Dances With  Wolves.
About the Author
SYD FIELD is the internationally acclaimed screenwriter, producer, teacher, lecturer, and author of several bestselling books. He has been a script consultant for Roland Jaffe's film production company, 20th Century Fox, the Disney Studios, Universal Pictures and Tri-Star Pictures, and was the American Screenwriting Association's first inductee into the Screenwriting Hall of Fame. He lives in Beverly Hills, CA
Praise For Four Screenplays…
"I based Like Water For Chocolate on what I learned in Syd's books. Before, I always felt structure imprisoned me, but what I learned was structure really freed me to focus on the story."—Laura Esquivel