Your Six-Year-Old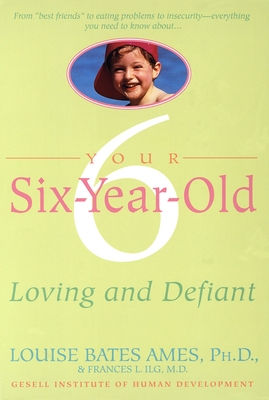 Your Six-Year-Old
Loving and Defiant
Dell, Paperback, 9780440506744, 144pp.
Publication Date: April 1981
* Individual store prices may vary.
Buy Now
or
Shop Local
Enter your zip code below to purchase from an indie close to you.
Description
The six-year-old is a complex child, entirelydifferent from the five-year-old. Though many of thechanges are for the good -- Six is growing moremature, more independent, more daring andadventurous -- this is not necessarily an easy time for thelittle girl or boy. Relationships with mothers aretroubled -- most of the time Six adores mother, but whenever things go wrong, it's her fault. Itused to be, at Five, that she was the center of thechild's universe; now, the child is the center ofhis own universe.
Parents need the expertadvice of Drs. Ames and Ilg during this difficultyear, to explain parent-child relations, friendships with peers, what six-year-olds excel at, howthey see the world, what it feels like to beentering the first grade. Children need patience andunderstanding to help make this transition easier.
About the Author
Ames is a child psychologist. She is a co-founder and Associate Director of the Gesell Institute of Human Development in New Haven, CT.