Real Moments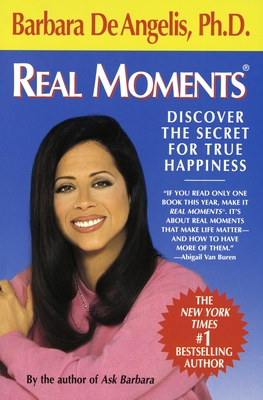 Real Moments
Discover the Secret for True Happiness
Dell, Paperback, 9780440507291, 288pp.
Publication Date: October 1995
* Individual store prices may vary.
Buy Now
or
Shop Local
Enter your zip code below to purchase from an indie close to you.
Description
To many of us, the experiences that we grew up taking for granted leave become distant dreams in our adult lives: marriages that last a lifetime; safe neighborhoods to call home; the certainty that our children will have a better life than we did; and most of all, lots of time to spend as we wish, living for the moment.  Instead, we find our time and energy spent recovering from the past or protecting ourselves from the future.  The result is a desperate, sometimes dangerous, and often unsuccessful, search for meaning in our lives. In Real Moments, Barbara De Angelis defines happiness not as an acquisition, but as a skill--the skill of capturing every moment and living it completely.  With insight, wisdom, and vision, she teaches us how to rediscover real moments with our mates and our children, with our work and our play, in sex and intimacy, and real moments with ourselves.  It is an examination of our relationship with the process of living itself, offering inspiration as well as practical tools for creating more of one of the most precious moments of all--moments of true meaning in our lives.
About the Author
Barbara De Angelis Ph.D. is one of the most influential teachers of our time in the field of personal and spiritual growth. For the past twenty-five years, she has reached tens of millions of people throughout the world with her positive messages about love, happiness and the search for meaning in our lives. She is the author of fourteen books published in over twenty languages including the "New York Times" bestsellers "Real Moments, Secrets About Men Every Woman Should Know," "Chicken Soup for the Couples Soul" and "Are You the One for Me?." Barbara has hosted her own television shows on CNN, CBS and PBS as well as producing and starred in her award-winning infomercial Making Love Work She lives in Santa Barbara, California.

Praise For Real Moments…
The New York Times Bestseller

"A brilliant, groundbreaking book that will fill your heart and nourish your spirit."--Deepak Chopra, M.D., author of Ageless Body, Timeless Mind

"If you read only one book this year, make it Real Moments.  It's about real moments that make life matter--and how to have more of them" --Abigail Van Buren