Tormenting Thoughts and Secret Rituals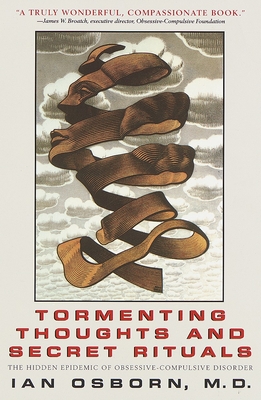 Tormenting Thoughts and Secret Rituals
The Hidden Epidemic of Obsessive-Compulsive Disorder
Dell, Paperback, 9780440508472, 336pp.
Publication Date: April 12, 1999
* Individual store prices may vary.
Buy Now
or
Shop Local
Enter your zip code below to purchase from an indie close to you.
Description
While on vacation, Raymond incessantly checked the carpets of Disney World looking for poison he had seen spilled there--in his mind.... Sherry was terrified of her thoughts about stabbing her baby daughter.... Jeff couldn't silence a mental voice urging him to have sex with men and animals....

Howard Hughes had it. So did historical figures Martin Luther and Ignatius of Loyola. They all suffered from obsessive-compulsive disorder (OCD)--as do over five million Americans who need to know that there is now hope and help. Ian Osborn, M.D., a specialist in OCD and a sufferer himself, has written the first comprehensive book on the experience, diagnosis, and treatment of OCD. He reveals recent discoveries about the disease as a biological disorder--a physical, not a psychological abnormality--and the exciting new therapies that have dramatically changed the future for OCD sufferers.

His wise, compassionate book includes:

Pencil-and-paper tests for self-diagnosis
Six steps to conquering OCD
Medication that works
Early signs that show OCD in children
Guidelines for family members
A comprehensive listing of where to find organizations and support groups--and more
About the Author
Ian Osborn, MD, is a psychiatrist practicing at the New Mexico Behavioral Health Institute and has taught psychiatry at Penn State University and the University of New Mexico. He struggled with and overcame OCD in his own life and now lectures on the disorder and is recognized as a leading expert. He is also the author of "Tormenting Thoughts and Secret Rituals: The Hidden Epidemic of Obsessive-Compulsive Disorder".
Praise For Tormenting Thoughts and Secret Rituals…
"A truly wonderful, compassionate book."
--James W. Broatch, executive director, Obsessive-Compulsive Foundation

"A splendid book on OCD--lively, lucid, informative, and scholarly."
--Ronald Pies, M.D., clinical professor of psychiatry, Tufts University School of Medicine

"A marvelous achievement--an excellent and very practical overview of OCD and its treatment."
--Jeffrey Schwartz, M.D., associate professor, UCLA School of Medicine