Accelerando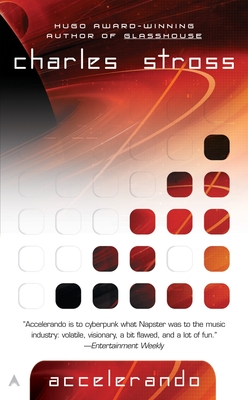 Accelerando
Ace Books, Mass Market Paperbound, 9780441014156, 415pp.
Publication Date: July 2006
* Individual store prices may vary.
Buy Now
or
Shop Local
Enter your zip code below to purchase from an indie close to you.
Description
The Singularity. It is the era of the posthuman. Artificial intelligences have surpassed the limits of human intellect. Biotechnological beings have rendered people all but extinct. Molecular nanotechnology runs rampant, replicating and reprogramming at will. Contact with extraterrestrial life grows more imminent with each new day.
Struggling to survive and thrive in this accelerated world are three generations of the Macx clan: Manfred, an entrepreneur dealing in intelligence amplification technology whose mind is divided between his physical environment and the Internet; his daughter, Amber, on the run from her domineering mother, seeking her fortune in the outer system as an indentured astronaut; and Sirhan, Amber's son, who finds his destiny linked to the fate of all of humanity.
For something is systematically dismantling the nine planets of the solar system. Something beyond human comprehension. Something that has no use for biological life in any form...
About the Author
Charles Stross, born in 1964, is a full-time science fiction writer and resident of Edinburgh, Scotland. The author of six Hugo-nominated novels and winner of the 2005 Hugo Award for best novella ( The Concrete Jungle ), Stross has had his work translated into more than twelve languages. He has worked as a pharmacist, software developer, and tech-industry journalist.
Praise For Accelerando…
"A cornucopia of notions and neat writing."—The San Diego Union-Tribune

"Makes hallucinogens obsolete."—Cory Doctorow



"Stross sizzles with ideas…whimsical and funny as well as challenging and thoughtful."
—The Denver Post



"Like Bruce Sterling or William Gibson at their best, Stross surfs a wave of ideas and information that seems always on the brink of collapsing into incomprehensibility, but never does—a careening plunge through strangeness in which every page contains something to mess with your head."—SF Site