Rule 34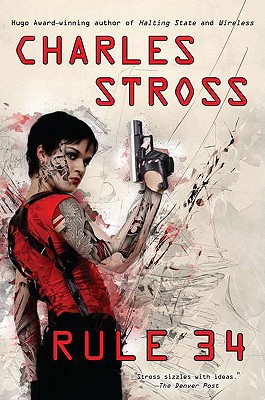 Rule 34
Ace Books, Hardcover, 9780441020348, 358pp.
Publication Date: July 5, 2011
* Individual store prices may vary.
Shop Local
Enter your zip code below to find indies closest to you.
Description
"The most spectacular science fiction writer of recent years" (Vernor Vinge, author of Rainbows End) presents a near-future thriller.

Detective Inspector Liz Kavanaugh is head of the Rule 34 Squad, monitoring the Internet to determine whether people are engaging in harmless fantasies or illegal activities. Three ex-con spammers have been murdered, and Liz must uncover the link between them before these homicides go viral.


About the Author
Charles Stross, born in 1964, is a full-time science fiction writer and resident of Edinburgh, Scotland. The author of six Hugo-nominated novels and winner of the 2005 Hugo Award for best novella ( The Concrete Jungle ), Stross has had his work translated into more than twelve languages. He has worked as a pharmacist, software developer, and tech-industry journalist.
Friday, Dec 23, 2011
Science fiction and fantasy books aren't just getting more popular, they're interbreeding with other genres to produce wild new hybrid forms � swapping DNA with literary novels, commenting on current events, morphing into historical science fiction romances, and evolving into hard-boiled detective fantasy. More at NPR.org