Dewey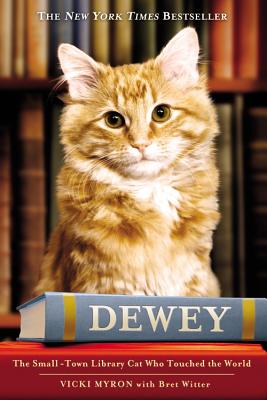 Dewey
The Small-Town Library Cat Who Touched the World
Grand Central Publishing, Hardcover, 9780446407410, 277pp.
Publication Date: September 1, 2008
* Individual store prices may vary.
Buy Now
or
Shop Local
Enter your zip code below to purchase from an indie close to you.
Description
How much of an impact can an animal have? How many lives can one cat touch? How is it possible for an abandoned kitten to transform a small library, save a classic American town, and eventually become famous around the world? You can't even begin to answer those questions until you hear the charming story of Dewey Readmore Books, the beloved library cat of Spencer, Iowa.

Dewey's story starts in the worst possible way. Only a few weeks old, on the coldest night of the year, he was stuffed into the returned book slot at the Spencer Public Library. He was found the next morning by library director, Vicki Myron, a single mother who had survived the loss of her family farm, a breast cancer scare, and an alcoholic husband. Dewey won her heart, and the hearts of the staff, by pulling himself up and hobbling on frostbitten feet to nudge each of them in a gesture of thanks and love. For the next nineteen years, he never stopped charming the people of Spencer with his enthusiasm, warmth, humility, (for a cat) and, above all, his sixth sense about who needed him most.

As his fame grew from town to town, then state to state, and finally, amazingly, worldwide, Dewey became more than just a friend; he became a source of pride for an extraordinary Heartland farming town pulling its way slowly back from the greatest crisis in its long history.
About the Author
Vicki Myron was born in Spencer, Iowa. After a twenty-five year career as a librarian, she retired and wrote the New York Times bestseller Dewey, The Small-Town Library Cat Who Touched the World. She has written numerous other books about Dewey, including Dewey s Nine Lives: The Legacy of the Small-Town Library Cat Who Inspired Millions, Dewey the Library Cat: A True Story, and Dewey s Christmas at the Library. She currently resides in Spencer.

Bret Witter has collaborated on six New York Times bestsellers. He lives in Decatur, Georgia.
Praise For Dewey…
"Iowa has produced great Hall of Famers, like baseball's Bob Feller. Iowa has now produced a true feline Hall of Famer, a loveable library celebrity named Dewey, who put Spencer, Iowa, on the international map. This book is a purring good read, whether you are a cat lover, or not."
-Jim Fanning, former Major League Baseball player and manager

"Through this plucky cat we come to know and love the town of Spencer, Iowa and learn lessons about courage, generosity and the power of relationships. Dewey is a hero. I wish there were more people like him."
-Toni Raiten-D'Antonio, author of THE VELVETEEN PRINCIPLES

"What an extraordinary story of love, courage and devotion. I will not soon forget the good people of Spencer, Iowa and their wonderful library cat. Dewey is truly inspiration for the soul."
-Jack Canfield, co-creator of CHICKEN SOUP FOR THE SOUL

"DEWEY is charming, lovely, and moving. It's about life and death and small-town values and, above all, love. Norton would have liked Dewey--the cat and the book-- immensely."
-Peter Gethers, author of THE CAT WHO WENT TO PARIS and THE CAT WHO'LL LIVE FOREVER

"Do not read DEWEY: The Small-Town Library Cat Who Touched the World! Unless you want to saturate a couple of otherwise perfectly good handkerchiefs, rid your thoughts of anything negative and at least for a little while, contemplate what a lovely world we inhabit."
-Jake Reiss, The Alabama Booksmith (Homewood, AL)

"This Librarian thought DEWEY was the Cats Meow! It will make you laugh and cry so much that you will want to Readmore Books! I adored DEWEY. There are few books that are as memorable; DEWEY the small town library cat will be one of those books that will be etched in my memory for a lifetime."
-Jennifer Teitelbaum, San Diego County Library (San Diego, CA)

"DEWEY...Finally, a lead title for cat people. If only all abandoned cats were as lucky as Dewey Readmore Books, or should it be if only all libraries were as lucky as Spenser Public Library? After reading this truly uplifting story, I want a Dewey Readmore Books for our bookstore! I'll have fun selling this one."
-Karin Wilson, Page & Palette (Fairhope, AL)

"DEWEY...is the story about how an attitude of love and devotion enriched the town of Spencer, Iowa, in a time when they needed it most. Dewey was not only a fixture at the Spencer Library for 18 years, he was also an international star of magazines, newspapers, and foreign documentaries...His story unfolds with humor, poignancy, and warmth that carries the reader to the very end."
-Sharon, Beaverdale Books (Des Moines, IA)

"DEWEY...the memoir will be a hit, comparable to Marley or Anna Quindlen's Good Dog. Stay."
-Bob Wietrak, Barnes & Noble (New York, NY)

"I was enchanted with antics of DEWEY, but also moved by Vicki's personal story and the wonderful presentation of my hometown...Whether you are a cat person, a book lover, or curious about life in small-town America, this story has something for everyone."
-Bonnie Mauer, Anderson's Bookshops (Naperville, IL)

"The story of Dewey, author Vicki Myron, and Spencer, Iowa, captures what makes small town life worth preserving--a sense of community. Dewey rekindles my belief that one person (together with one cat) can change lives. Vicki gives Spencer's famous library cat a 10th life by writing this engaging biography."
-Christie Vilsack, former First Lady of Iowa and President of The Vilsack Foundation