Robert Ludlum's the Janus Reprisal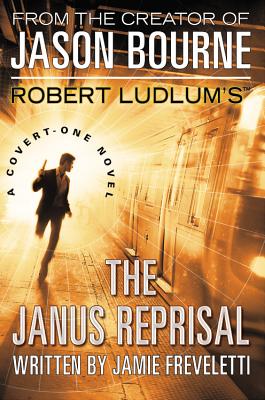 Robert Ludlum's the Janus Reprisal
Grand Central Publishing, Hardcover, 9780446539845, 356pp.
Publication Date: September 11, 2012
* Individual store prices may vary.
Buy at Local Store
Enter your zip code below to purchase from an indie close to you.
or
Not Currently Available for Direct Purchase
Description
With U.S. intelligence agencies wracked by internal power struggles and paralyzed by bureaucracy, the president was forced to establish his own clandestine group--Covert-One. It is activated only as a last resort, when the threat is on a global scale and time is running out.
THE JANUS REPRISAL
It begins with a terrorist attack. Covert-One operative Colonel Jon Smith is attending a conference in The Hague on infectious diseases, together with leading scientists and political figures from around the world. Without warning, the conference hotel is consumed in a bloodbath. Smith is caught in the crossfire and barely escapes . . . but not before discovering a picture of himself and two other targets in the pocket of one of the shooters.
But the hotel is not the only location under attack in The Hague. Bombs are going off at the train station, the airport, and the International Criminal Court, where Pakistani warlord Oman Dattar is being held while he's tried for crimes against humanity. In the resulting chaos, the prisoner escapes.
Dattar nurses a special hatred for the United States and its allies. With his freedom, and access to a mysterious new weapon, Dattar puts in motion a murderous, ambitious plot to exact his revenge and bring down the West once and for all--unless Covert-One can stop him.
About the Author
Jamie Freveletti is a former trial lawyer, martial artist, and runner. She is the author of four books in her own Emma Caldridge series as well as Robert Ludlum's Covert One novel, The Janus Reprisal. She lives in Chicago.
ROBERT LUDLUM was the author of twenty-one novels, each one a New York Times bestseller. There are more than 210 million of his books in print, and they have been translated into thirty-two languages. Ludlum passed away in March 2001.
JAMES H. COBB, a longtime mystery/thriller writer, is a graduate of the University of Puget Sound and an avid student of military history and technology. He is a member of the United States Naval Institute and the Navy League. He lives in the Pacific Northwest.
Praise For Robert Ludlum's the Janus Reprisal…
"Freveletti turbocharges tension to nonstop levels in this Covert-One thriller."
-Kirkus Reviews

"A tight and tense pageturner."
-Booklist on The Ares Decision

"Fast-paced, exciting . . . a winner."
-Booklist on The Arctic Event

"The cinematic chase through changing landscapes and mounting body count gives the book its rapid pace, while insider politics, tradecraft, and technical wizardry lend an extra kick."
-Publishers Weekly on The Cassandra Compact

"Packed with all the classic Ludlum elements . . . the intricately engineered plot thunders forward at breakneck pace. Bottom line: Perfectly executed."
-People on The Altman Code