Damas, Dramas, and Ana Ruiz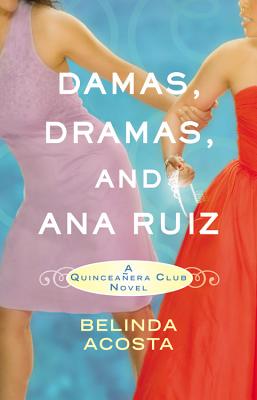 Damas, Dramas, and Ana Ruiz
Grand Central Publishing, Paperback, 9780446540513, 315pp.
Publication Date: August 1, 2009
* Individual store prices may vary.
Buy at Local Store
Enter your zip code below to purchase from an indie close to you.
or
Buy Here
Description
All Ana Ruiz wanted was to have a traditional quinceanera for her daughter, Carmen. She wanted a nice way to mark this milestone year in her daughter's life. But Carmen was not interested in celebrating. Hurt and bitter over her father Esteban's departure, she blamed Ana for destroying their happy family, as did everyone else. A good man is hard to find, especially at your age Ana was told. Why not forgive his one indiscretion? Despite everything, Ana didn't want to tarnish Carmen's childlike devotion to her beloved father. But Ana knows that growing up sometimes means facing hard truths. In the end, Ana discovers that if she's going to teach Carmen anything about what it means to be a woman, it will take more than simply a fancy party to do it...
"Belinda Acosta's Damas, Dramas, and Ana Ruiz delivers all its title promises and more: it's a book about damas of all ages, from teenage girls to the struggling mothers of those teenage girls; it's packed with drama so you don't want to stop reading; it's a novel that deeply and honestly tells the story of Ana Ruiz, her own coming of age as a woman and as a mother. Belinda Acosta is up to all of the challenges of such a rich panorama of characters and events. She's sassy, she's smart, she makes it look easy But it takes a lot of hard work and a pile of talent to write such an engaging, touching book. A wonderful quinceanera of a novel "
--- Julia Alvarez, author of Once Upon a Quinceanera: Coming of Age in the USA and Return to Sender

"Lively and perceptive... Acosta empathically captures the innermost feelings of her characters."
--- Booklist

Praise For Damas, Dramas, and Ana Ruiz…
"Belinda Acosta's Damas, Dramas, and Ana Ruiz delivers all its title promises and more: it's a book about damas of all ages, from teenage girls to the struggling mothers of those teenage girls; it's packed with drama so you don't want to stop reading; it's a novel that deeply and honestly tells the story of Ana Ruiz, her own coming of age as a woman and as a mother. Belinda Acosta is up to all of the challenges of such a rich panorama of characters and events. She's sassy, she's smart, she makes it look easy! But it takes a lot of hard work and a pile of talent to write such an engaging, touching book. A wonderful quinceañera of a novel!"
-Julia Alvarez, author of Once Upon a Quinceañera: Coming of Age in the USA and Return to Sender

"Lively and perceptive... Acosta empathically captures the innermost feelings of her characters."

"Simply put, Belinda !se aventó! She has gone all out in giving an emotional, spiritual, and feminine Latina perspective of how it is and what it is to grow up in the US Hispanic culture."
-Examiner.com

"Well written, effortlessly utilizing two languages, giving the unaware English reader a lesson in the Spanish language and Hispanic culture, Damas, Dramas, and Ana Ruiz will prove to be "the first prick into the cloth to embroider something big and complicated" in a series of Quinceañera Club Novels. Big, yes! Complicated, only in the sense that cultures are intricate as humans are wondrous beings, as well as curious."
-Examiner.com

"[Damas, Dramas, and Ana Ruiz] is a book that smartly and deftly explores questions of family relationships as well as cultural identity....Belinda [Acosta] seamlessly weaves Spanish and Spanglish into her prose, giving the novel a lively and authentic voice."

"Acosta perceptively delves into the turmoil in which this family finds itself by examining it from multiple viewpoints.... Celeste's quinceañera becomes the glue that holds this family together as she discovers the loving support group she never knew she had."
-Booklist on SISTERS, STRANGERS, AND STARTING OVER