Spooner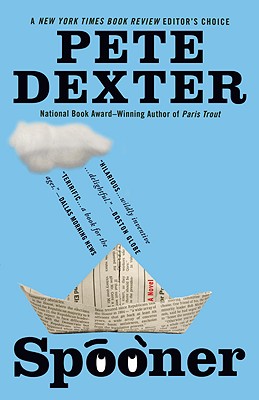 Spooner
Grand Central Publishing, Paperback, 9780446540735, 476pp.
Publication Date: October 25, 2010
* Individual store prices may vary.
Buy at Local Store
Enter your zip code below to purchase from an indie close to you.
or
Buy Here
Description
Warren Spooner was born after a prolonged delivery in a makeshift delivery room in a doctor's office in Milledgeville, Georgia, on the first Saturday of December, 1956. His father died shortly afterward, long before Spooner had even a memory of his face, and was replaced eventually by a once-brilliant young naval officer, Calmer Ottosson, recently court-martialed out of service. This is the story of the lifelong tie between the two men, poles apart, of Spooner's troubled childhood, troubled adolescence, violent and troubled adulthood and Calmer Ottosson's inexhaustible patience, undertaking a life-long struggle to salvage his step-son, a man he will never understand.
About the Author
Pete Dexter is the author of the National Book Award-winning novel Paris Trout and five other novels: God's Pocket, Deadwood, Brotherly Love, The Paperboy, and Train. He has been a columnist for the Philadelphia Daily News and the Sacramento Bee, and has contributed to many magazines, including Esquire, Sports Illustrated, and Playboy. His screenplays include Rush and Mulholland Falls. Dexter was born in Michigan and raised in Georgia, Illinois, and eastern South Dakota. He lives on an island off the coast of Washington.
Rob Fleder was executive editor of Sports Illustrated and the editor of SI Books during his twenty years at Time Inc. He was the editor of Sports Illustrated 50th Anniversary Book, Sports Illustrated: The Baseball Book, Sports Illustrated: The Football Book, and Hate Mail from Cheerleaders, among other New York Times bestsellers.
Praise For Spooner…
Pete Dexter, writing of the part played by love in the exuberant life of his hero, Spooner, and the fatal inevitability of the compromises that make life bearable, has given us a novel of picaresque vitality--outlandish, anecdotal, profuse, funny, profound.
-Susanna Moore, author of My Old Sweetheart and In the Cut

"[Dexter's] is a voice like no other, though James Ellroy and Elmore Leonard may be counted among his distant literary cousins...So, this book is different! Not exactly what Pete Dexter usually writes, but madly interesting in what it sets out to do. I freely admit to a bias: As far as I'm concerned, Dexter can do no wrong."
-Washington Post

"In his latest book, newspaper columnist turned novelist turned screenwriter Pete Dexter has taken the literary-psychoanalytic bull by the horns and -- with characteristic and stylish aplomb -- blown smoke in its formidable face. His new novel, Spooner, essentially is an autobiographical roman a clef -- not really true, except in its major incidents; not quite wholly fictional, except, of course, where it is. It's a book that probably will perplex -- and then delight -- Dexter's longtime fans, since it really is a memoir thinly disguised as a novel, and, as such, it's a lot like his life: a big, sprawling mess of a book that's nonetheless nearly always entertaining and, in significant parts, genuinely touching. It's also a wonderful reminder that Dexter's journalistic eye for the tellingly instructive detail, particularly as it evokes character, still is second to none."
-Los Angeles Times

"A story about a man's struggle to help his troubled stepson by a novelist who writes about trouble better than most anyone."
-USA Today

"Lucky for Dexter, the consequences of the tardy, yet (in his judgment) unfinished release of Warren Spooner's wonderful, terrible life are less fraught, even felicitous.... In some 500 pages, Dexter brings Spooner to life with uncharacteristic expansiveness and tenderness. Spooner is a family epic that digs out the emotions packed in memory's earliest bonds - guilt, resentment, loyalty and love.... In Spooner, he unearths the experiences that underlie this nuanced sensibility, exposing the familial archetypes that shade his characters and directly engaging the potent emotions that emerge obliquely in his other books. It's a conversational novel, roving and inclusive, packed with Southern color and Northeastern grit, with rueful reflection and the contretemps of daily life that can't be avoided even on a remote island in Puget Sound. With Spooner, he demonstrates the impulse that keeps writers at their task; the longing to reassemble the whole; to see, however belatedly, who a person was, or could have been."
-New York Times Book Review

"Dexter's crowd-pleasing wiles are razor-sharp in this long-awaited novel, the madcap and touching, assured and (ahem) dexterous story of a very Dexter-like Warren Spooner."
-Publisher's Weekkly