The Realm of Hungry Spirits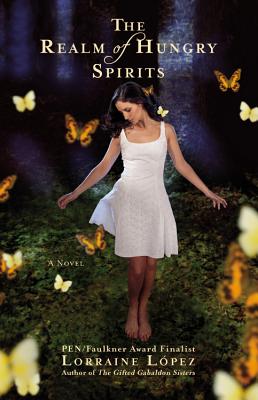 The Realm of Hungry Spirits
Grand Central Publishing, Paperback, 9780446549639, 352pp.
Publication Date: May 2, 2011
* Individual store prices may vary.
Buy at Local Store
Enter your zip code below to purchase from an indie close to you.
or
Buy Here
Description
"In Buddhism, there is a place where hungry souls gather between lives" "awaiting rebirth so they can finally satisfy the desires that haunt them."
"In the San Fernando Valley, that place is Marina Lucero's house."
THE REALM OF HUNGRY SPIRITS
For Marina Lucero, whose father transformed his life through meditation and whose mother gave hers to a Carmelite convent, spirituality should come easily. It doesn't. After a devastating relationship leaves her feeling lost and alone, she opens her home to a collection of wayward souls-- the abused woman next door and her alcoholic sister, her aimless nephew and his broken-hearted best friend. Her house now full but her heart still empty, Marina then turns to the wisdom of Gandhi, the Dalai Lama, even a Santeria priest who wants to cleanse her home.
As Marina struggles to balance the disappointments and delights of daily life, she'll learn that, when it comes to inner peace and those we love, a little chaos can lead to a lot of happiness.
About the Author
Lorraine M. Lopez lives in Nashville, Tennessee, where she teaches at Vanderbilt University. Her awards include the Independent Publisher Book Award for Multicultural Fiction, the Paterson Prize for Fiction, the International Latino Book Award for Short Stories, and the inaugural Miguel Marmol Prize for Fiction (selected by Sandra Cisneros and awarded by Curbstone Press, for a first book-length work of fiction of a Latino/a writer). She has written a book for young adults, Call Me Henri. Her latest novel is The Gifted Gabaldon Sisters, which was a Los Compadres/Borders selection. Her forthcoming books include a new novel, Limpieza, and an edited essay collection, An Angle of Vision: Women Writers on Their Poor and Working Class Roots.


Praise For The Realm of Hungry Spirits…
"López imagines believable characters and observes their world with literary insight. An entertaining appreciation of one woman's journey, sometimes ribald and funny, sometimes ironic and self-deprecating."
-Kirkus Reviews

"This story of a faith-propelled, irrepressible Chicana bursts with life as it comes to an

eminently satisfying, all-encompassing conclusion. López, author of The Gifted Gabaldón Sisters (2008),

shows good storytelling skills once again."
-Booklist

"Through snappy dialogue and rich detail, López (The Gifted Gabaldón Sisters) creates characters who are lovable even at their most irritating, and the perpetually ridiculous demands of Marina's 'hungry spirits' provide moments of hilarious dark comedy."
-Publishers Weekly

"Although it is a humorous, often raucous story of the witty and wise Marina's struggle to find inner peace among the motley crew of relatives, friends, antagonists, and former and potential lovers that surround her, The Realm of Hungry Spirits is, first and foremost, a spiritual journey; one that leads a good soul towards a life-changing discovery . The Dalai's Lama's words, both simple and profound, contain the message that Marina finally 'gets,' once she gives herself over completely to the impulse that defines her: generosity towards others."
-Judith Ortiz Cofer

"A masterful novel that explores, with a humorous touch, the powers of femininity and a young woman's struggle to become spiritually aware in a mad world. Lorraine Lopez, a laureate novelist and a PEN/ Faulkner Award Finalist, proves her brilliance once more."
-Teresa Dovalpage author of A Girl like Che Guevara

This warm comic novel is trademark Lorraine López: gritty, true, hilarious, wise, moving--all the good things. Her indomitable, grace-seeking, wise-cracking heroine Marina is an everywoman pushed by love and circumstance to make the choice we all face: people, or peace?
-Joy Castro, author of The Truth Book

"The Realm of Hungry Spirits is a marvelous novel. In it, Lorraine Lopez brilliantly orchestrates a cast of complicated and audacious characters. My new literary heroine, Marina Lucero, gamely tackles this riveting spiritual puzzle: How can our tormentors possibly be our teachers? Readers will hold their breath as they turn the pages to discover the answer. With her deft and pitch-perfect prose, Lopez has created a wickedly funny and warmly empathetic tale of life in contemporary America. The Realm of Hungry Spirits is the work of one of our finest literary artists."
-Lynn Pruett, author Ruby River

"López, quien se dio a conocer con su novela "The Gifted Gabaldón Sisters", maneja las convenciones de la literatura popular para mujeres a la perfección."

López, who came to fame with her novel The Gifted Gabaldón Sisters, manages the conventions of popular fiction for women to perfection.
-(EFE) Telemundoatlanta.com

"Enchanting debut."
-Good Housekeeping on THE GIFTED GABALDÓN SISTERS

"Engaging...Lopez establishes herself as an excellent storyteller with this multilayered tale of sisterhood, growing up, self-awareness and honoring history."
-Publishers Weekly on THE GIFTED GABALDÓN SISTERS

"Reminiscent of the novels of Cristina Garcia and Sandra Cisneros, Lopez's book presents a lively, loving Latino family."
-Library Journal on THE GIFTED GABALDÓN SISTERS

"The Gifted Gabaldón Sisters is about secrets and lies, dramas and scandals, big losses and deep resentments-the very stuff that makes life worth living. It's been a long time since I've encountered such a rambunctious and motley bunch of characters. And in López's hands, through her finely calibrated prose, they lift off the page with dignity and soul, and she makes you root and ache for each of them until the very end."
-Alex Espinoza, author of STILL WATER SAINTS on THE GIFTED GABALDÓN SISTERS

"Lorraine López didn't set out to write a book that challenged narrow perceptions of Latino culture, but that's just what she has done with her richly imagined new novel."
-The Tennessean on THE GIFTED GABALDÓN SISTERS

"The Gifted Gabaldón Sisters is a laugh-aloud funny and lay-your-head-down-and-cry lyrical tour of melded cultures and traditions, of blended tongues, and the sites of the inevitable clashes between worlds; it is a window into the strange conjunctions that exist as parallel universes in today's multicultural America. The result is wisdom and delight, delight and wisdom."
-Judith Ortiz Cofer author of Call Me Maria on THE GIFTED GABALDÓN SISTERS