Two Graves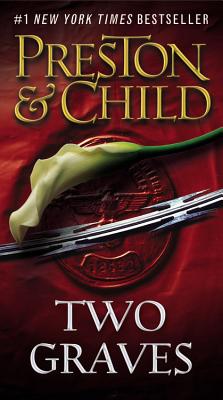 Two Graves
Grand Central Publishing, Mass Market Paperbound, 9780446555005, 624pp.
Publication Date: July 30, 2013
* Individual store prices may vary.
Buy at Local Store
Enter your zip code below to purchase from an indie close to you.
or
Not Currently Available for Direct Purchase
Description
After his wife, Helen, is brazenly abducted before his eyes, Special Agent Pendergast furiously pursues the kidnappers, chasing them across the country and into Mexico. But then, things go terribly, tragically wrong; the kidnappers escape; and a shattered Pendergast retreats to his New York apartment and shuts out the world.

But when a string of bizarre murders erupts across several Manhattan hotels-perpetrated by a boy who seems to have an almost psychic ability to elude capture-NYPD Lieutenant D'Agosta asks his friend Pendergast for help. Reluctant at first, Pendergast soon discovers that the killings are a message from his wife's kidnappers. But why a message? And what does it mean?

When the kidnappers strike again at those closest to Pendergast, the FBI agent, filled anew with vengeful fury, sets out to track down and destroy those responsible. His journey takes him deep into the trackless forests of South America, where he ultimately finds himself face to face with an old evil that-rather than having been eradicated-is stirring anew... and with potentially world-altering consequences.

Confucius once said: "Before you embark on a journey of revenge, first dig two graves." Pendergast is about to learn the hard way just how true those words still ring.
About the Author
Douglas Preston is the co-author with Lincoln Child of the celebrated Pendergast series of novels, including such best-selling titles as "Fever Dream", "The Book of the Dead", "The Wheel of Darkness", and "Relic", which became a number one box office hit movie. His solo novels include the "New York Times" bestsellers "Impact", "Blasphemy", "The Codex", and "Tyrannosaur Canyon". His most recent nonfiction book, "The Monster of Florence", is being made into a film starring George Clooney. Preston is an expert long-distance horseman, a member of the elite Long Riders Guild, and a Fellow of the Royal Geographical Society. He has travelled to remote parts of the world as an archaeological correspondent for "The New Yorker". He also worked as an editor and writer at the American Museum of Natural History in New York and taught nonfiction writing at Princeton University. Preston is the Co-president of International Thriller Writers, and serves on the Governing Council of the Authors Guild.

Lincoln Child is the author of "Utopia" and "Death Match, " as well as a number of "New York Times" bestselling thrillers with Douglas Preston. He lives with his wife and daughter in Morristown, New Jersey.
Praise For Two Graves…
"The names Preston & Child on the cover of a book promise a unique reading experience unlike any other, and Two Graves delivers the high thrills one expects from the two masters...authors Douglas Preston and Lincoln Child have delivered another exceptional book....The gothic atmosphere that oozes from the pages of Two Graves will envelop the reader in a totally unique experience...The mystery tantalizes, and the shocks throughout the narrative are like bolts of lightning. Fans will love the conclusion to the trilogy, and newcomers will seek out the authors' earlier titles."—The Washington Post

"Pendergast-an always-black-clad pale blond polymath, gaunt yet physically deadly, an FBI agent operating without supervision or reprimand-lurks at the dark, sharp edge of crime fiction protagonists."—Kirkus Reviews

"TWO GRAVES provides readers exactly what they would expect from a Preston and Child novel --- thrills, high adventure, treacherous plot twists and well-researched scientific intrigue. The story is never predictable, and Pendergast is a multi-layered personality who keeps you guessing throughout."—Bookreporter.com


"Preston and Child's high-adrenaline 12th thriller featuring maverick FBI agent Aloysius Pendergast wraps up the trilogy that began with 2010's Fever Dream and continued with 2011's Cold Vengeance with a bang...[an] intelligent suspense novel."—Publishers Weekly

"The action is constant and starts with a bang."—RT Book Reviews

"Another fast-paced murder mystery that crosses the country, dips into Mexico and then wallops Manhattan hotels. It's the perfect holiday gift for that thriller-genre lover in your life."—Asbury Park Press

"A roller coaster ride of a novel....Preston and Child have a knack for writing nail-biting suspense novels. They do an incredible job making the plot complex. It seems as though ten different things happen at once, and then they masterfully tie everything together in a stunning finish."—Sacramento Book Review