Three-Day Town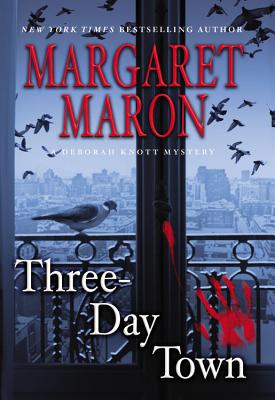 Three-Day Town
Grand Central Publishing, Hardcover, 9780446555784, 288pp.
Publication Date: December 1, 2011
* Individual store prices may vary.
Buy at Local Store
Enter your zip code below to purchase from an indie close to you.
or
Not Currently Available for Direct Purchase
Description
Three-Day Town is the winner of the Agatha award for best novel.

After a year of marriage, Judge Deborah Knott and Sheriff's Deputy Dwight Bryant are off to New York City for a long-delayed honeymoon. January might not be the perfect time to take a bite of the Big Apple, but Dwight's sister-in-law has arranged for them to stay in her Upper West Side apartment for a week.

Deborah had been asked to deliver a package to Lieutenant Sigrid Harald of the NYPD from Sigrid's Colleton County grandmother. But when the homicide detective comes to pick it up, the package is missing and the building's super is found murdered. Now despite their desire to enjoy a blissful winter getaway, Deborah and Dwight must team up with Lt. Harald to catch the killer before he strikes again.
About the Author
MARGARET MARON grew up in the country near Raleigh, North Carolina, but for many years lived in Brooklyn, New York. When she and her artist husband returned to the farm that had been in her family for a hundred years, she began a series based on her own background. The first book, "Bootlegger's Daughter," became a "Washington Post "bestseller that swept the major mystery awards for its year-winning the Edgar, Agatha, Anthony, and Macavity Awards for Best Novel-and is among the 100 Favorite Mysteries of the Century as selected by the Independent Mystery Booksellers Association. Later Deborah Knott novels "Up Jumps the Devil," "Storm Track," and "Three-Day Town" each also won the Agatha Award for Best Novel. Margaret is also the author of the Sigrid Harald series of detective novels. In 2008, Maron received the North Carolina Award for Literature, the highest civilian honor the state bestows on its authors. And in 2013, the Mystery Writers of America celebrated Maron's contributions to the mystery genre by naming her a Grand Master-an honor first bestowed on Agatha Christie. To find out more about her, you can visit MargaretMaron.com.
Praise For Three-Day Town…
"Dwight's obsession with New York gourmet delights and Deborah's passion for stylish, impractical footwear are charming, but Sigrid's slow but steady police work carries the day. Fans who have hankered for Deborah and Sigrid to find themselves in the same story will be charmed."
-Kirkus on THREE-DAY TOWN

"This is a strong addition to a

series that's won Edgar, Agatha, Anthony, and Macavity awards."
-Publishers Weekly on THREE-DAY TOWN

On Christmas Mourning:
"[Maron] plots like a modern-day Christie, but the North Carolina charm is all her own."
-Kirkus

"Warm and authentic family relationships are the heart of this evergreen series."
-Publishers Weekly

"[A] winning entry and a fine holiday mystery."
-Booklist

" This book has plenty of suspense and the characters are well done. One of Ms. Maron's strengths is the believability of her characters. They add to the story and don't distract the reader with useless red herrings. As usual, the interplay between Dwight and Deborah is wonderfully romantic even in the midst of a murder. I have to say that I will be glad to see them back home in the next book. I just love the family dynamics and the southern ambiance in these books. Can't wait for the next book in the series!!"
-imainlinefiction.blogspot.com on THREE-DAY TOWN

"You can't go wrong with a Deborah Knott novel from Margaret Maron."
-http://www.thepilot.com/news/2011/dec/04/take-your-pick-of-exciting-thrillers/ on THREE-DAY TOWN