War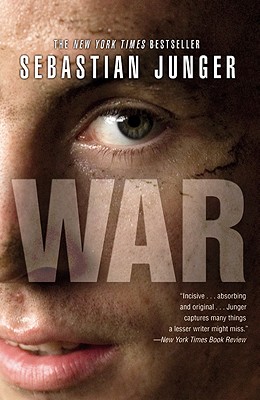 War
Twelve, Paperback, 9780446556224, 320pp.
Publication Date: May 17, 2011
* Individual store prices may vary.
Buy Now
or
Shop Local
Enter your zip code below to purchase from an indie close to you.
Description
In WAR, Sebastian Junger (The Perfect Storm) turns his brilliant and empathetic eye to the reality of combat--the fear, the honor, and the trust among men in an extreme situation whose survival depends on their absolute commitment to one another. His on-the-ground account follows a single platoon through a 15-month tour of duty in the most dangerous outpost in Afghanistan's Korengal Valley. Through the experiences of these young men at war, he shows what it means to fight, to serve, and to face down mortal danger on a daily basis.
About the Author
SEBASTIAN JUNGER is the New York Timesbestselling author of The Perfect Storm, A Death in Belmont, Fire, and War. He is a contributing editor to Vanity Fair and has been awarded a National Magazine Award and an SAIS-Novartis Prize for journalism. He lives in New York City.
Praise For War…
"With his narrative gifts and vivid prose -- as free, thank God, of literary posturing as it is of war-correspondent chest-thumping -- Junger masterfully chronicles the platoon's 15-month tour of duty...Junger makes us see the terror, monotony, misery, comradeship and lunatic excitement that have been elements of all wars since, say, the siege of Troy. He thus becomes a kind of 21st-century battle singer, narrating the deeds and misdeeds of his heroes while explaining what makes them do what they do...It's the best writing I've seen on the subject since J. Glenn Gray's 1959 classic, The Warriors: Reflections on Men in Battle. . . . Junger's sketches of the men are deft, his ear for their quirky speech (aided by video recordings) spot on . . . This splendid book should help the rest of us understand them -- and war itself -- a little better."
-Washington Post

"Absorbing and original . . . Junger is aiming for more than just a boots-on-the-ground narrative of the travails of fighting men . . . . WAR strives to offer not just a picture of American fighting men but a discourse on the nature of war itself. This is no small ambition . . . He writes some beautiful sentences about this ugly world."
-New York Times Book Review

"With his blue-eyed, chiseled and starting-to-grizzle looks, Junger is just the specimen Hollywood would cast as a foreign correspondent in Afghanistan to ensure a box office hit...But to assume that Junger had easy access diminishes his reporting skills and his commitment to the story. At age 48, he's a generation older than most of the soldiers he accompanied into combat over the course of their 15-month deployment and who instinctively put up their guard against an outsider...The resulting book is written in the first person, but it is observational, offering no critique of the combat he witnessed, taking no position on the efficiency, logic or value of the war. He offers a close-up view of men and the raw elements of war: fear and courage, killing and death, love and brotherhood."
-Los Angeles Times

"It is a gripping account of how modern warfare is experienced by those who do the fighting, and its focus is that of a laser, not a floodlight . . . WAR is full of stories that prove the adage about all politics being local."
-Washington Post