Righteous Indignation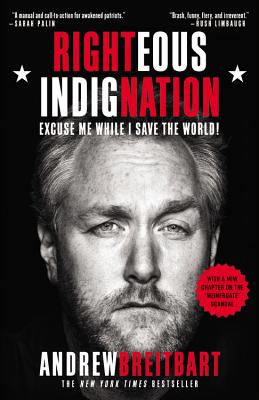 Righteous Indignation
Excuse Me While I Save the World!
Grand Central Publishing, Paperback, 9780446572835, 288pp.
Publication Date: April 24, 2012
* Individual store prices may vary.
Buy at Local Store
Enter your zip code below to purchase from an indie close to you.
or
Buy Here
Description
Known for his network of conservative websites that draws millions of readers everyday, Andrew Breitbart has one main goal: to make sure the "liberally biased" major news outlets in this country cover all aspects of a story fairly. Breitbart is convinced that too many national stories are slanted by the news media in an unfair way.
Breitbart burst on to the national media scene thanks to his coverage of the ACORN controversy, where a local ACORN community group leader was videotaped giving business advice to a "gentleman" who ran a prostitution ring. When the major news media at first tried to bury the story, Breitbart used his extraordinary marketing savvy to make sure the story got full national attention.
More recently, Congressman Anthony Weiner took on Breitbart, claiming that scurrilous photos of Weiner were being sent on the internet by the conservative right. In a new chapter in RIGHTEOUS INDIGNATION, Breitbart details how "Weinergate" was entirely the personal fault of Congressman Weiner this, and how Weiner derailed his own promising career by trying to implicate Breitbart and conservative journalists.
In short, RIGHTEOUS INDIGNATION, Breitbart talks about the key issues that Americans face, how he has aligned himself with the Tea Party, and how one needs to deal with the liberal news world head on. Along the way, he details his early years, working with Matt Drudge, the Huffington Post, and so on, and how Breitbart developed his unique style of launching key websites to help get the word out to conservatives all over.
A rollicking and controversial read, Breitbart will certainly raise your blood pressure, one way or another.
About the Author
Andrew Breitbart is the creator of Breitbart.com, Breitbart.tv, Big Hollywood and Big Government. His new website, Big Journalism, launched in December 2009. His websites get millions of hits everyday.
Praise For Righteous Indignation…
Righteous is three books in one, each self-contained. Together, they weave a narrative that will remind many readers of their own lives. Even if you don't share all of Andrew's political beliefs, you will find yourself identifying with at least some of his story and conclusions. The book is part biography, part history lesson, and part manifesto, and it flows with clarity of purpose from one page to the next. It subtly draws you into a narrative, strung through the whole book, where he meticulously makes the case against the media and pop culture, which, he argues, help spread and normalize the liberal agenda. He also explains how to combat that agenda.
-The Daily Caller


Right smack in the middle of this volume is where Mr. Breitbart's narrative takes off like a rocket. The chapter "Breakthrough" is in and of itself well worth the price of "Righteous Indignation."
-The Washington Times