Man Made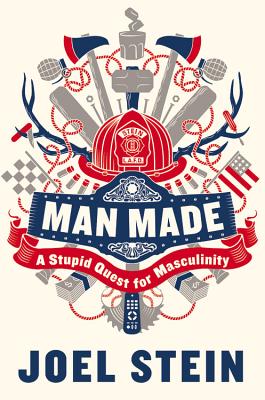 Man Made
A Stupid Quest for Masculinity
Grand Central Publishing, Hardcover, 9780446573122, 285pp.
Publication Date: May 15, 2012
* Individual store prices may vary.
Buy at Local Store
Enter your zip code below to purchase from an indie close to you.
or
Not Currently Available for Direct Purchase
Description
The smudge looked suspiciously penis- like. The doctor confirmed: "That's the baby's penis!" which caused not celebration, but panic. Joel pictured having to go camping and fix a car and use a hammer and throw a football and watch professionals throw footballs and figure out whether to be sad or happy about the results of said football throwing.

So begins his quest to confront his effete nature whether he likes it or not (he doesn't), by doing a twenty-four-hour shift with L.A. firefighters, going hunting, rebuilding a house, driving a Lamborghini, enduring three days of boot camp with the U.S. Army, day-trading with $100,000, and going into the ring with UFC Hall of Famer Randy Couture. Seeking help from a panel of experts, including his manly father-in-law, Boy Scouts, former NFL star Warren Sapp, former MLB All-Star Shawn Green, Adam Carolla, and a pit bull named Hercules, he expects to learn that masculinity is defined not by the size of his muscles, but by the size of his heart (also, technically, a muscle). This is not at all what he learns.
About the Author
Joel Stein grew up in Edison, New Jersey, went to Stanford, and in 1997, became a staff writer for TIME. In 1998, he began writing his sophmore humor column that now appears in the magazine every week. He's also written 14 cover stories for TIME, and has contributed to The New Yorker, GQ, Esquire, Details, Food & Wine, Travel & Leisure, Businessweek, Wired, Real Simple, Sunset, Playboy, Elle, Los Angeles Times, and many more magazines. He has appeared on TV shows, taught a class in humor writing at Princeton, and wrote a weekly column for Entertainment Weekly and the opinion section of the Los Angeles Times.
Praise For Man Made…
"This is much more than a funny book, though it is that too. Beneath the humor is a wonderfully poignant exploration of the role of manliness for the 21st century urban guy. It's also a Father's Day love letter disguised as a set of adventure tales. Joel looks lovingly at both his crusty old dad and trusting infant son to reflect deeply on the lessons that we pass along from generation to generation. It made me laugh, and think, a lot."
--Walter Isaacson, #1 New York Times bestselling author of Steve Jobs

"Many of us men in the Western world struggle with this "forced manliness"- there is a lot of pressure. For some, it is a real struggle. I have seen Joel try to chew tobacco in an attempt to prove that estrogen does not imprison his body. Looking down at his lap and bashfully wiping the remnants of spilled tobacco off his J. Crew slacks did not help his cause. The fact that he laughed at it, though, did. He caught himself trying to be manly and laughed. That is a true man." --Zach Galifianakis

"I am the father only of daughters, and so didn't suffer any existential midlife panic about discovering and demonstrating my latent manliness. But I am happy Joel did, because his infant son inspired him to report and write this rare and splendid thing: an open-minded, open-hearted, bracingly honest, laugh-out-loud-funny memoir that takes life just seriously enough."
--Kurt Andersen, New York Times bestselling author of Heyday

"Despite his best efforts, I'm not sure if Joel Stein will ever be a man, but he made me laugh out loud trying in Man Made." --Andy Borowitz, New York Times bestselling author and humorist

"Joel Stein is one of the funniest writers I've read. An incredible, hilarious saga of one man's transformation from really wimpy to just kind of wimpy." -Neil Strauss, New York Times bestselling author of The Game and Emergency

"Joel Stein's book will make you act in a very unmanly way-you will spend hours giggling like a 5th grade girl. He writes about fatherhood and son-hood with great insight, humor and, yes, even poignancy. It made me proud to share the same basic gender with him" -AJ Jacobs, New York Times bestselling author of The Year of Living Biblically

"If Joel Stein can learn to be a man, a man in the old and rugged sense of the word, then anyone can. And that's what gives me hope. What gave me profound and dizzy pleasure, though, was reading this wild account of how he did it. I dare you to follow him on his dangerous quest and I double dare you not to laugh." -Walter Kirn, New York Times bestselling author of Up in the Air

"This entertaining and irreverent memoir will make you laugh out loud, teach you a surprising amount about various bastions of American masculinity, and leave you feeling glad that you're not married to Joel Stein." -Curtis Sittenfeld, New York Times bestselling author of Prep and American Wife

"To man up, Stein goes all Plimpton . . . MAN MADE reminds us of his wonderful ability to find surprise within a cliché . . . hilarious."-New York Times Book Review

"Stein proves himself to be a champion humorist by probing the serious side of his subject while peppering the paragraphs with numerous fresh and funny notions."
-Publisher's Weekly

"A consistently hilarious and surprisingly profound crash course in manliness... Charming, funny and life affirming" -Kirkus

"Feels like what might've happened if you'd sent Woody Allen to write George Plimpton's Paper Lion...In between all the comedy, the book is often a perceptive account of how men relate to each other and a surprisingly tender story about the love that exists between fathers and sons." -San Francisco Chronicle