The Fortune Cookie Chronicles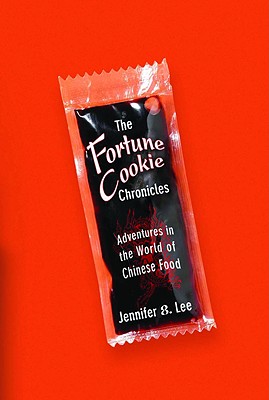 The Fortune Cookie Chronicles
Adventures in the World of Chinese Food
Twelve, Hardcover, 9780446580076, 320pp.
Publication Date: March 1, 2008
* Individual store prices may vary.
Buy at Local Store
Enter your zip code below to purchase from an indie close to you.
or
Not Currently Available for Direct Purchase
Description
If you think McDonald's is the most ubiquitous restaurant experience in America, consider that there are more Chinese restaurants in America than McDonalds, Burger Kings, and Wendys combined. New York Times reporter and Chinese-American (or American-born Chinese). In her search, Jennifer 8 Lee traces the history of Chinese-American experience through the lens of the food. In a compelling blend of sociology and history, Jenny Lee exposes the indentured servitude Chinese restaurants expect from illegal immigrant chefs, investigates the relationship between Jews and Chinese food, and weaves a personal narrative about her own relationship with Chinese food. The Fortune Cookie Chronicles speaks to the immigrant experience as a whole, and the way it has shaped our country.
Praise For The Fortune Cookie Chronicles…
"Those of us who eat Chinese food are lucky to have Jennifer Lee as a guide to the modern global migrations and individual ingenuity that have made it the world's favorite cuisine. In The Fortune Cookie Chronicles, she offers many expertly told stories in one: a footloose and witty travelogue, a fascinating piece of historical reportage, and a quiet but moving memoir of the immigrant experience. Lee pursues her parallel investigations with a hearty appetite for economic curiosities, little patience for myth, and above all an empathy for the people who make, prepare, and deliver the food we eat."
-Sasha Issenberg, author of THE SUSHI ECONOMY

"Jennifer 8. Lee has cracked the world of Chinese restaurants like a fortune cookie. Her book is an addictive dim-sum of fact, fun, quirkiness and pathos. It's Anthony Bourdain meets Calvin Trillin. Lee is the kind of reporter I can only dream of being: committed, compassionate, resourceful, and savvy. I devoured this book in two nights (in bed), and suggest you do the same."
-Mary Roach, author of STIFF and SPOOK

Lee travels wide and digs deep to unearth the answers to
several burning questions...

From all-you-can-eat buffets in Kansas to the
small southern Chinese village
of Jietoupu, where she
tracks down descendants of General Tso (who, natch, have never heard of, seen
or tasted their forefather's infamous chicken dish), the author takes readers
by the hand and brings them on her adventure.




-The Washington Post

"[Lee] embeds her subject's history in an entertaining personal narrative, eschewing cookie-cutter interviews and dry lists of facts and figures . . . she has a breezy, likable literary demeanor that makes the first-person material engaging. Thanks to Lee's journalistic chops, the text moves along energetically even in its more expository sections . . . Tasty morsels delivered quickly and reliably."
-Kirkus Reviews

"Readers will take an unexpected and entertaining journey-through culinary, social and cultural history-in this delightful first book on the origins of the customary after-Chinese-dinner treat by New York Times reporter Lee. When a large number of Powerball winners in a 2005 drawing revealed that mass-printed paper fortunes were to blame, the author (whose middle initial is Chinese for "prosperity") went in search of the backstory. She tracked the winners down to Chinese restaurants all over America, and the paper slips the fortunes are written on back to a Brooklyn company. This travellike narrative serves as the spine of her cultural history-not a book on Chinese cuisine, but the Chinese food of take-out-and-delivery-and permits her to frequently but safely wander off into various tangents related to the cookie. There are satisfying minihistories on the relationship between Jews and Chinese food and a biography of the real General Tso, but Lee also pries open factoids and tidbits of American culture that eventually touch on large social and cultural subjects such as identity, immigration and nutrition. Copious research backs her many lively anecdotes, and being American-born Chinese yet willing to scrutinize herself as much as her objectives, she wins the reader over. Like the numbers on those lottery fortunes, the book's a winner."
-Publisher's Weekly, Starred Review