Titanic's Last Secrets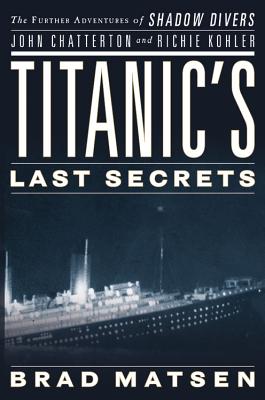 Titanic's Last Secrets
The Further Adventures of Shadow Divers John Chatterton and Richie Kohler
Twelve, Hardcover, 9780446582056, 336pp.
Publication Date: October 1, 2008
* Individual store prices may vary.
Buy at Local Store
Enter your zip code below to purchase from an indie close to you.
or
Not Currently Available for Direct Purchase
Description
After rewriting history with their discovery of a Nazi U-boat off the coast of New Jersey, legendary divers John Chatterton and Richie Kohler decided to investigate the great enduring mystery of history's most notorious shipwreck: Why did Titanic sink as quickly as it did?

To answer the question, Chatterton and Kohler assemble a team of experts to explore Titanic, study its engineering, and dive to the wreck of its sister ship, Brittanic, where Titanic's last secrets may be revealed.

Titanic's Last Secrets is a rollercoaster ride through the shipbuilding history, the transatlantic luxury liner business, and shipwreck forensics. Chatterton and Kohler weave their way through a labyrinth of clues to discover that Titanic was not the strong, heroic ship the world thought she was and that the men who built her covered up her flaws when disaster struck. If Titanic had remained afloat for just two hours longer than she did, more than two thousand people would have lived instead of died, and the myth of the great ship would be one of rescue instead of tragedy.

Titanic's Last Secrets is the never-before-told story of the Ship of Dreams, a contemporary adventure that solves a historical mystery.
Praise For Titanic's Last Secrets…
"If you think you know the story of the Titanic, think again. Brad Matsen's riveting book weaves new evidence from the depths with historical accounts to reveal the dark, hidden truths about the deadly voyage. John Chatterton and Richie Kohler's chilling discoveries propel a page-turning narrative to its shocking conclusion: What happened aboard the Titanic that night was far worse than anyone ever guessed."


-Susan Casey, bestsellilng author of The Devil's Teeth: A True Story of Obsession and Survival Among America's Great White Sharks

"Titanic's Last Secrets is a fresh, moving, and irresistible portrait of the doomed ship. Combining insightful character sketches, secret archives, forensic engineering, death-defying dives and suspenseful writing, Brad Matsen travels effortlessly between past and present and offers haunting new conclusions about Titanic: It did not have to happen this way. They did not have to die. I could not put this book down."


-Jemes L. Swanson, Edgar Award-winning author of the New York Times bestseller Manhunt: The 12-Day Chase for Lincoln's Killer