Life Itself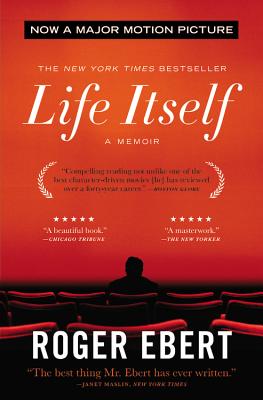 Life Itself
Grand Central Publishing, Paperback, 9780446584968, 435pp.
Publication Date: September 4, 2012
* Individual store prices may vary.
Buy at Local Store
Enter your zip code below to purchase from an indie close to you.
or
Buy Here
Description
NOW A MAJOR MOTION PICTURE
Roger Ebert is the best-known film critic of our time. He has been reviewing films for the Chicago Sun-Times since 1967, and was the first film critic ever to win a Pulitzer Prize. He has appeared on television for four decades, including twenty-three years as cohost of Siskel & Ebert at the Movies.
In 2006, complications from thyroid cancer treatment resulted in the loss of his ability to eat, drink, or speak. But with the loss of his voice, Ebert has only become a more prolific and influential writer. And now, for the first time, he tells the full, dramatic story of his life and career.
Roger Ebert's journalism carried him on a path far from his nearly idyllic childhood in Urbana, Illinois. It is a journey that began as a reporter for his local daily, and took him to Chicago, where he was unexpectedly given the job of film critic for the Sun-Times, launching a lifetime's adventures.
In this candid, personal history, Ebert chronicles it all: his loves, losses, and obsessions; his struggle and recovery from alcoholism; his marriage; his politics; and his spiritual beliefs. He writes about his years at the Sun-Times, his colorful newspaper friends, and his life-changing collaboration with Gene Siskel. He remembers his friendships with Studs Terkel, Mike Royko, Oprah Winfrey, and Russ Meyer (for whom he wrote Beyond the Valley of the Dolls and an ill-fated Sex Pistols movie). He shares his insights into movie stars and directors like John Wayne, Werner Herzog, and Martin Scorsese.
This is a story that only Roger Ebert could tell. Filled with the same deep insight, dry wit, and sharp observations that his readers have long cherished, this is more than a memoir-it is a singular, warm-hearted, inspiring look at life itself.
"I believe that if, at the end, according to our abilities, we have done something to make others a little happier, and something to make ourselves a little happier, that is about the best we can do. To make others less happy is a crime. To make ourselves unhappy is where all crime starts. We must try to contribute joy to the world. That is true no matter what our problems, our health, our circumstances. We must try. I didn't always know this, and am happy I lived long enough to find it out."
-from LIFE ITSELF.
About the Author
Roger Ebert (1942-2013) was a film critic for the Chicago Sun-Times for more than forty years. In 1975 he became the first film critic to win the Pulitzer Prize. That same year he teamed up with his rival critic, Gene Siskel of the Chicago Tribune, to host a movie review program on public television. Sneak Previews became the most popular entertainment program on the PBS network and gave Ebert a nationwide audience. He is the author of numerous books on film including Awake in the Dark: The Best of Roger Ebert, the Great Movies essay collections, and a memoir, Life Itself.
Praise For Life Itself…
"As Ebert notes in his new autobiography, "Life Itself," his silence has made his inner voice more vivid, and-as he himself says in his introduction-the book is proof of it. In particular, he summons his youth (he was born in 1942) and those who were close to him then-family, friends, neighbors, teachers-with a wealth of detail that is at once a tribute to the vigorous fullness with which he has lived and to his power of perception, recollection, and description. ...The treasure of the book is Ebert's portraiture-whether of family, friends, colleagues, or celebrities. He speaks lovingly of actors ("I am beneath everything else a fan. I was fixed in this mode as a young boy and am awed by people who take the risks of performance"); in particular, his sketches of Robert Mitchum, Lee Marvin, and John Wayne pulsate with life (they're juicily quotable, but I won't bother quoting; just do read them), and he conjures a remarkable character, Billy "Silver Dollar" Baxter, a former wheeler-dealer at the Cannes Film Festival who, Ebert writes, now "lives not far from Broadway, which is to Billy as the stream is to the trout...." The dialogue Ebert reproduces is a comic masterwork; I feel as if I'm seeing a version of the American tycoon from Jacques Tati's "Playtime," only smarter, raunchier, and more inventive: Irving! Take care of Francis Ford Chrysler over there! And set 'em up for Prince Albert in a can! Whatever he's having. Doo-blays!"—Richard Brody, The New Yorker


"Ebert is exceptionally good company. Like Christopher Hitchens and Kirk Douglas, he works prodigiously and narrates his Job-like woes with a surprisingly chipper voice....and a captivating, moveable feast it is."—Maureen Dowd, New York Times Book Review

"Candid, funny and kaleidoscopic...This is the best thing Mr. Ebert has ever written...The book sparkles with his new, improvisatory, written version of dinner-party conversation...Its globe-trotting, indefatigable author comes across as the life of a lifelong party."—Janet Maslin, The New York Times

"Ebert is best known, of course, as the nation's most prominent film critic; but in recent years he's turned to exploring more personal concerns on his widely read blog, leading to this poignant memoir. Five years ago, surgeries following thyroid cancer left him unable to speak, eat, or drink, but as he recounts, he "began to replace what I lost with what I remembered." This enhanced recall allows him to relate with exhaustive detail his halcyon if unremarkable childhood in a small town in the Midwest and his life changing college days. When the narrative turns to journalism and, inevitably, movies, as Ebert falls into his reviewing gig at the Chicago Sun-Times in 1967, the focus becomes sharper, and even the tangential chapters-devoted to topics ranging from his encounters with film legends to his stormy relationship with TV partner Gene Siskel-are cogently engaging. But it's the most personal segments, dealing with his struggle with alcoholism, his supportive wife, Chaz, and his recent illness, that give the book its considerable emotional heft. Ebert illuminates and assesses his life with the same insight and clarity that marks his acclaimed movie reviews."—Booklist (starred review)

"It's hardly surprising that Ebert, the Pulitzer Prize-winning film critic for the Chicago Sun-Times since 1967, begins this candid examination of an extraordinary life with an allusion to Ingmar Bergman's Persona, about an actress who loses her voice in mid-performance. Though three thyroid cancer surgeries resulting in the removal of his lower jaw have left Ebert unable to speak, eat, or drink, these are not famous last words. Forgoing a traditional linear format, each chapter--particularly "My Old Man" and "Big John Wayne"--could function as a stand-alone essay. Born in Urbana, Ill., in 1942, Ebert spent a carefree childhood, often with his nose in a book. Drawn to newspapers beginning in high school, he became the sports reporter for his school paper before rising to the rank of co-editor. The position of film critic fell into his lap at the Sun-Times--a paper he joined after leaving a graduate English program--and Ebert hasn't looked back. And while films have governed his life for close to 50 years, he wisely doesn't choose the greatest hits version of his reviewing career, focusing instead on the life he's lived in between screenings: his battle with alcoholism; tight-knit friendships forged in the newsroom (and bar); and his marriage to Chaz, whom he calls "the great fact of my life." Hollywood gets its due, but it's an ensemble player, sharing the screen with reminiscences both witty and passionate from one of our most important cultural voices."—Publisher's Weekly (starred review)

"Thoughtful, entertaining, and emotional...Ebert comes across as smart, bighearted, and eccentric...and writes with unflinching candor about difficult subjects."—Entertainment Weekly (A-)

"Tales from childhood, interviews with film stars and directors, funny and touching stories about colleagues, and evocative essays about trips unspool before the reader in a series of loosely organized, often beautifully written essays crafted by a witty, clear-eyed yet romantic raconteur....Ebert's work as a film critic sent him traveling, and his wonderfully personal essays on places around the world where he seeks solitude are highlights of the book, rich in reflections, imagery and sensory detail."—Washington Post

"A gentle look back, Life Itself: A Memoir is as moving as it is amusing, fresh evidence that Roger Ebert is a writer who happens to love movies, not a movie lover who happens to write."—Associated Press

"Ebert's new memoir, "Life Itself," is an episodic, impressionistic and skillfully written exploration of his life, from his 1950s childhood in Urbana, Ill., to his recent battles against thyroid cancer, which have left him unable to speak, or to eat or drink through his mouth. What shines throughout the book is Ebert's humility, his down-to-earth and powerful sense of decency."—Minneapolis Star Tribune

"His story is inspirational, and his memoirs, Life Itself, are a pleasure to read....Spellbinding."—The Boston Review