Vicious Circle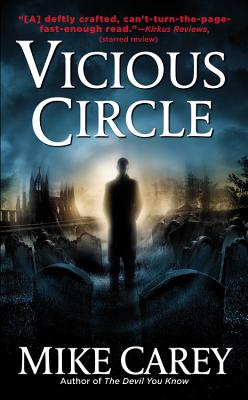 Vicious Circle
Grand Central Publishing, Mass Market Paperbound, 9780446618717, 577pp.
Publication Date: June 30, 2009
* Individual store prices may vary.
Buy at Local Store
Enter your zip code below to purchase from an indie close to you.
or
Buy Here
Description
Felix Castor has reluctantly returned to exorcism after a successful case convinces him that he really can do some good with his abilities---"good," of course, being a relative term when dealing with the undead. His friend Rafi is still possessed, the succubus Ajulutsikael (Juliet to her friends) still technically has a contract on him, and he's still dirt poor.
Doing some consulting for the local cops helps pay the bills, but Castor needs a big private job to really fill the hole in his bank account. That's what he needs. What he gets is a seemingly insignificant "missing ghost" case that inexorably drags him and his loved ones into the middle of a horrific plot to raise one of hell's fiercest demons.
When satanists, stolen spirits, sacrifice farms, and haunted churches all appear on the same police report, the name Felix Castor can't be too far behind...
About the Author
Linda, Louise and Mike Carey are three writers living in North London. Sometimes they write together, sometimes alone.
Louise wrote The Diary of a London Schoolgirl for the website of the London Metropolitan Archive. She also co-wrote the graphic novel Confessions of a Blabbermouth with Mike.
Linda, writing as A.J. Lake, authored the Darkest Age fantasy trilogy. She has also written for TV, most notably for the German fantasy animation series Meadowlands.
Mike has written extensively in the comics field, where his credits include Lucifer, Hellblazer, X-Men and The Unwritten (nominated for both the Eisner and Hugo Awards). He is also the author of the Felix Castor novels, and of the X-Men Destiny console game for Activision. He is currently writing a movie screenplay, Silent War, for Slingshot Studios and Intrepid Pictures.
They share their crowded house with two other writers/artists, a cat, and several stick insects.