A Walk to Remember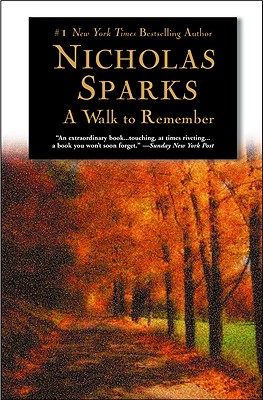 A Walk to Remember
Warner Books (NY), Paperback, 9780446693806, 207pp.
Publication Date: September 2004
* Individual store prices may vary.
Shop Local
Enter your zip code below to find indies closest to you.
Description
There was a time when the world was sweeter....when the women in Beaufort, North Carolina, wore dresses, and the men donned hats.... Every April, when the wind smells of both the sea and lilacs, Landon Carter remembers 1958, his last year at Beaufort High. Landon had dated a girl or two, and even once sworn that he'd been in love. Certainly the last person he thought he'd fall for was Jamie, the shy, almost ethereal daughter of the town's Baptist minister....Jamie, who was destined to show him the depths of the human heart-and the joy and pain of living. The inspiration for this novel came from Nicholas Sparks's sister: her life and her courage. From the internationally bestselling author Nicholas Sparks, comes his most moving story yet....
About the Author
Nicholas Sparks is the author of over a dozen novels. In 1994, at the age of twenty-eight, he wrote The Notebook over a period of six months. In October 1995, rights to The Notebook were sold to Warner Books. It was published in October 1996, and he followed that with Message in a Bottle, A Walk to Remember, The Rescue, A Bend in the Road, Nights in Rodanthe, The Guardian, The Wedding, Three Weeks with My Brother, True Believer, and At First Sight. All were domestic and international bestsellers and were translated into more than forty languages. The movie version of Message in a Bottle was released in 1999, A Walk to Remember was released in 2002, and The Notebook was released in 2004. The average domestic box office gross per film was $56 million with another $100 million in DVD sales making the novels by Nicholas Sparks one of the most successful franchises in Hollywood. He lives in North Carolina with his wife and children.