Undress Me in the Temple of Heaven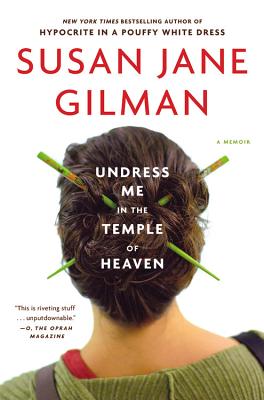 Undress Me in the Temple of Heaven
Grand Central Publishing, Paperback, 9780446696937, 307pp.
Publication Date: February 2010
* Individual store prices may vary.
Shop Local
Enter your zip code below to find indies closest to you.
Description
"This is riveting stuff . . . unputdownable."
--O, "The Oprah Magazine"
In 1986, Susan Jane Gilman and a classmate embarked on a bold trek around the globe starting in the People's Republic of China. At that point, China had been open to independent backpackers for roughly ten minutes. Armed only with the collected works of Nietzsche and Linda Goodman's" Love Signs, "the two friends plunged into the dusty streets of Shanghai. Unsurprisingly, they quickly found themselves in over their heads--hungry, disoriented, stripped of everything familiar, and under constant government surveillance. Soon, they began to unravel--one physically, the other psychologically. As their journey became increasingly harrowing, they found themselves facing crises that Susan didn't think they'd survive. But by summoning strengths she never knew she had--and with help from unexpected friends--the two travelers found their way out of a Chinese heart of darkness.
UNDRESS ME IN THE TEMPLE OF HEAVEN is a flat-out page-turner, an astonishing true story of naivete, friendship, and redemption told with Susan's trademark compassion and humor.

About the Author
Susan Jane Gilman is the author of Hypocrite in a Pouffy White Dress and Kiss My Tiara. She lives in Washington, DC with her husband but is on a two-year stint in Geneva, Switzerland.
Praise For Undress Me in the Temple of Heaven…
On UNDRESS ME IN THE TEMPLE OF HEAVEN:
"[A] standout travel memoir...Gilman's descriptions of their trials and tribulations crackle with wit."

"Youthfully upbeat, Gilman delivers an entertaining memoir...offering the full wallop of disorienting, in-the-moment, transformative travel adventures."

"[An] ambitious and intimate coming-of-age memoir."

"With her trademark intelligent, irreverent voice Gilman takes us on a journey that feels terrifyingly real, immediate and life-threatening. The woman is no less than a godsend to a reading world that has become too used to lies, half-truth and spin."