The Fear Index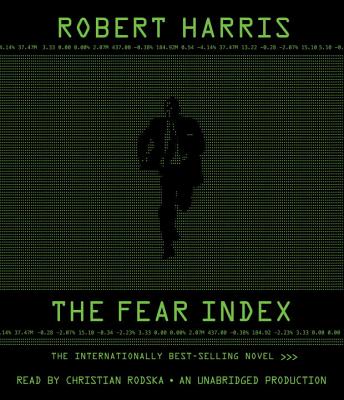 The Fear Index
Random House Audio Publishing Group, Compact Disc, 9780449008737
Publication Date: January 31, 2012
* Individual store prices may vary.
Buy at Local Store
Enter your zip code below to purchase from an indie close to you.
or
Not Currently Available for Direct Purchase
Description
At the nexus of high finance and sophisticated computer programming, a terrifying future may be unfolding even now.
 
Dr. Alex Hoffmann's name is carefully guarded from the general public, but within the secretive inner circles of the ultrarich he is a legend. He has developed a revolutionary form of artificial intelligence that predicts movements in the financial markets with uncanny accuracy. His hedge fund, based in Geneva, makes billions. But one morning before dawn, a sinister intruder breaches the elaborate security of his lakeside mansion, and so begins a waking nightmare of paranoia and violence as Hoffmann attempts, with increasing desperation, to discover who is trying to destroy him.
 
Fiendishly smart and suspenseful, The Fear Index gives us a searing glimpse into an all-too-recognizable world of greed and panic. It is a novel that forces us to confront the question of what it means to be human—and it is Robert Harris's most spellbinding and audacious novel to date.
About the Author
Robert Harris is the author of "Pompeii, Enigma", and "Fatherland". He has been a television correspondent with the BBC and a newspaper columnist for the "London Sunday Times" and "The Daily Telegraph". His novels have sold more than ten million copies and been translated into thirty languages. He lives in Berkshire, England, with his wife and four children.

"AudioFile" Golden Voice Christian Rodska's twenty-year career in British theater encompasses radio plays, West End performances, television, and audiobooks. "AudioFile" has acclaimed Christian's performances of "Officers and Gentlmen", by Evelyn Waugh, "Switch Bitch" by Roald Dahl, and "In Patagonia" by Bruce Chatwin.
Praise For The Fear Index…
"Chilling . . . Harris has shown himself a master of the thriller form . . . The principal narrative unfolds at a breakneck pace . . . Readers may find themselves lying awake at night unsettled by the story." —Wall Street Journal
 
"In this taut thriller, Harris delivers a superbly entertaining read for our time." —Newsweek

"Addictive . . . Pick this up on an airplane, and you won't want to land . . . The greatest pleasure is that it gets the finance right." —Reuters
 
"Harris is a master of pacing—the story moves swiftly while never feeling rushed, and the tension increases subtly chapter by chapter."—Bloomberg News
 
"Timely, expertly executed . . . Foreboding runs through the system of the book like an IV drip . . . It doesn't take a super-computer to know The Fear Index is a worthwhile investment of your time." —USA Today
 
"Fleet-footed . . . Harris expertly conjures a paranoid world where everyone seems to be watching everyone else." —New York Times

"Harris has fashioned in The Fear Index a thriller that's part Kafka, part Orwell, part Darwin—with just about all parts exciting and pertinent . . . The tale [comes] to a stunning and disturbing finish."
—San Francisco Chronicle

"Unputdownable . . . Harris has achieved the impossible, or at least the improbable: an explanation of the extravagantly esoteric nature of hedge funds, which normal people can understand . . . I gorged myself, devouring his dystopian vision of free markets enslaved by a sinister artificial intelligence in one breakneck sitting." —The Daily Telegraph
 
"Reminiscent of everyone from Michael Crichton to Ian Fleming, Stanley Kubrick and Alfred Hitchcock." —Financial Times
 
"A virtuoso specimen . . . Inventively exploiting current anxieties about algorithmic trading to update the Frankenstein story, The Fear Index is both cutting edge and keenly conscious of its literary predecessors . . . A tour de force." —The Sunday Times
 
"A blazingly ambitious novel . . . A fictional nightmare that feels like a wake-up call." —The Sunday Telegraph
 
"An escapist thriller to rank with the best of them, and as a guide to what hedge funds actually do, it is surprisingly clear and instructive." —The Economist
 
"Ingenious . . . There aren't many writers who can produce genuine page-turners these days but Harris is one and The Fear Index had me gripped from the start . . . The characters are superb . . . Harris is stunningly good at explaining complex financial instruments in layman's terms."
—Sunday Express
 
"Harris's great skill is to inhabit fully and convincingly the worlds he writes about, showing off his vast research yet never allowing the white-knuckle narrative to lose momentum." —New Statesman
 
"As gripping a tale as anything Harris has written . . . It crackles with energy and invention, and the author's obviously extensive research into the arcane world of state-of-the-art computing technology, algorithms, trading and hedge funds is dished up lightly and intelligibly." —Irish Independent
 
"Another winner . . . What makes Harris's thrillers so much more rewarding than those of his rivals is that they all, whatever their ostensible subject, come out of his deep and expert interest in power." —The Evening Standard
 
"Harris is a master of pace and entertainment." —The Observer (UK)