Phantom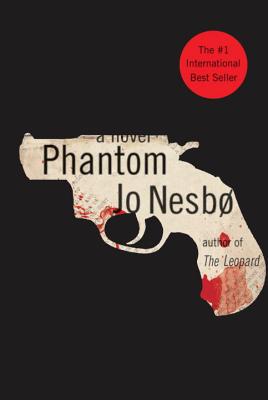 Phantom
Random House Audio Publishing Group, Compact Disc, 9780449013632
Publication Date: October 2, 2012
* Individual store prices may vary.
Buy at Local Store
Enter your zip code below to purchase from an indie close to you.
or
Not Currently Available for Direct Purchase
Description
Following from Jo Nesbo's electrifying international best-sellers "The Snowman" and "The Leopard," now comes "Phantom," which plunges the brilliant, deeply troubled, now former police officer Harry Hole into a full-tilt investigation on which his own tenuous future will come to depend.
When Harry left Oslo again for Hong Kong fleeing the traumas of life as a cop he thought he was there for good. But then the unthinkable happened. The son of the woman he loved, lost, and still loves is arrested for murder: Oleg, the boy Harry helped raise but couldn't help deserting when he fled. Harry has come back to prove that Oleg is not a killer. Barred from rejoining the police force, he sets out on a solitary, increasingly dangerous investigation that takes him deep into the world of the most virulent drug to ever hit the streets of Oslo (and the careers of some of the city's highest officials), and into the maze of his own past, where he will find the wrenching truth that finally matters to Oleg, and to himself.
About the Author
Jo Nesbo is the most successful Norwegian author of all time. He has sold more than 19 million books, which are published in forty-seven different languages globally, and he is widely recognized as one of Europe s foremost crime writers. The author of crime fiction and short stories, the Doctor Proctor adventures are his first children s books.

Robin Sachs (1951 2013), raised in London and trained at the Royal Academy of Dramatic Art, came to the United States in 1991. His credits include "Alias", "Buffy the Vampire Slayer", "Dynasty", "Nowhere Man", "Babylon 5", "Diagnosis Murder", "Galaxy Quest", "Northfork", "Ocean s 11", "The Lost World: Jurassic Park", and "Megalodon".
Praise For Phantom…
"Intricate, breakneck plotting makes for an addictive page-turner in Phantom . . . Brings to mind Michael Connelly's tortured LAPD detective Harry Bosch." —Los Angeles Times
 
"The Oslo depiction adds a contemporary heft to Phantom that expands Nesbø's reach . . . Suggests more than a few parallels to the great television series 'The Wire'; perhaps it is one master's nod to another." —Boston Globe
  
"Phantom will maintain Jo Nesbø's unstoppable momentum." —The Independent (UK)

"Easily the most troubling and heartfelt of this excellent series, Phantom is one of the finest suspense novels to come out of Scandinavia to date." —BookPage
 
"Nesbø's true subject is the deterioration of the social fabric that has made Oslo such a civilized place." —New York Times Book Review
 
"A compulsive page-turner . . . [Phantom] is expertly plotted and structured, with all the requisite twists and turns to keep the reader guessing. The latter half of the book is also relentlessly paced, reading at times like a Scandinavian police version of the Jason Bourne series." —The Independent on Sunday (UK)

"Far more than a procedural . . . Personal and topical and hip, as usual." —Pittsburgh Post-Gazette
 
"Nesbø has written a cunningly constructed thriller . . . running at Hollywood summer blockbuster speed." —Richmond Times-Dispatch
 
"Superb on every level . . . Nesbø begins with an emotionally gripping family drama but surrounds it with an elaborate, beautifully constructed plot involving [a] new drug and the ruthless man who rules its distribution. The subplots, plot twists (especially the last one), and the fully fleshed supporting characters—many of whom could drive their own novels—are all testament to Nesbø's remarkable talent, but finally, it all comes back to Harry and the pain he endures in trying to carve out a separate peace from a world and a past that won't let him go." —Booklist (starred)
 
"A first-class thriller . . . Contains several twists, some of which will make you gasp and at least one of which will make you cry . . . Phantom is Nesbø's finest novel, a novel for grown-ups, which triumphantly proves, as Harry says, that 'humans are a perverted and damaged species and there is no cure, only relief.'" —Evening Standard (UK)

"Deeply moving . . . This is Harry's most personal case." —Publishers Weekly (starred)
 
"Norwegian crime fiction writer Nesbø is one of the best . . . Oslo's gritty and violent drug world is brought to life through the characters. The fast-paced plots are twisted and riveting, and the two stories collide to reveal a shocking climax. Nesbø is on par with the original Scandinavian duo Maj Sjöwall and Per Wahlöö, authors of the Martin Beck series." —Library Journal

"The internationally popular detective series by the Norwegian author builds to a blockbuster climax [in Phantom] . . . Those hooked by [The Snowman] or earlier ones should make their way here as quickly as they can . . . Devastating for protagonist and reader alike." —Kirkus Reviews (starred)
 
"Phantom is an astoundingly good novel. Nesbø has done it again." —Trouw (Netherlands)

"Another excellent example of why Nesbø has such a firm grasp on the Nordic crime crown . . . Nesbø's portrait of venality and corruption is bleakly angry, his peek beneath Oslo's gleaming façade disturbing; a fascination with addiction adds to his writing's unsettling intensity. But he doesn't let this overwhelm a tightly coiled plot." —Metro (UK)

"Once again Nesbø demonstrates that he is a crime writer of absolute world class . . . You will understand what I mean when you read Phantom. And please do, this is a masterpiece of the genre. Jo Nesbø just gets better and better." —Västerbottens Folkblad (Sweden)

"Perhaps it was unrealistic to expect Nesbø to reach the dizzying heights of his two previous books, The Snowman and The Leopard. How wrong I was. Phantom is arguably a much better book than any previous instalments. Nesbø wrings out the tension, by turns painful and delicious, with consummate skill. The surprises come like an avalanche as the end nears, engulfing everything in its path." —Daily Express (UK)
 
"Nesbø is one of the best suspense writers in the world and this novel fully confirms that claim . . . Suspenseful, moving, well written and impossible to put down . . . I just can't recommend this enough." —Litteratursiden.dk (Denmark)
  
"A brilliant thriller rife with exciting twists by one of the best Scandinavian crime authors." —Bücher (Germany)
 
"Extremely thrilling!" —Die Zeit (Germany)
 
"Harry's most lethally gripping and personal journey to date." —The Mirror (UK)

"Phantom must be the crime novel of the year. There is no one better or even equal to Jo Nesbø in Scandinavian crime fiction." —Weekendavisen (Denmark)
  
"Jo Nesbø is a master of his craft. His latest novel, Phantom, is world-class crime writing." —Dagbladet (Norway)