Space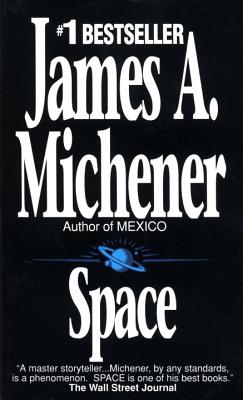 Space
Fawcett Books, Mass Market Paperbound, 9780449203798, 832pp.
Publication Date: September 12, 1983
* Individual store prices may vary.
Buy at Local Store
Enter your zip code below to purchase from an indie close to you.
or
Not Currently Available for Direct Purchase
Description
Already a renowned chronicler of the epic events of world history, James A. Michener tackles the most ambitious subject of his career: space, the last great frontier. This astounding novel brings to life the dreams and daring of countless men and women--people like Stanley Mott, the engineer whose irrepressible drive for knowledge places him at the center of the American exploration effort; Norman Grant, the war hero and U.S. senator who takes his personal battle not only to a nation, but to the heavens; Dieter Kolff, a German rocket scientist who once worked for the Nazis; Randy Claggett, the astronaut who meets his destiny on a mission to the far side of the moon; and Cynthia Rhee, the reporter whose determined crusade brings their story to a breathless world.
Praise for "Space"
" "
"A master storyteller . . . Michener, by any standards, is a phenomenon. "Space "is one of his best books."--"The Wall Street Journal"
" "
"A novel of very high adventure . . . a sympathetic, historically sound treatment of an important human endeavor that someday could be the stuff of myth, told here with gripping effect."--"The New York Times Book Review"
" "
""Space "is everything that Michener fans have come to expect. Without question, the space program's dramatic dimensions provide the stuff of great fiction."--"BusinessWeek"
"Michener is eloquent in describing the actual flights into space, as well as the blazing, apocalyptic re-entry of the shuttle into earth's atmosphere."--"The New York Times.
About the Author
Universally revered novelist James A. Michener was forty before he decided on writing as a career. Prior to that, he had been an outstanding academic, an editor, and a U.S. Navy lieutenant commander in the Pacific Theater during World War II. His first book, Tales of the South Pacific, won a Pulitzer Prize and became the basis of the award-winning Rodgers and Hammerstein musical South Pacific. In the course of the next forty years Mr. Michener wrote such monumental bestsellers as Sayonara, The Bridges at Toko-Ri, Hawaii, The Source, Chesapeake, Centennial, Texas, Alaska, Caribbean, and Mexico.
Decorated with America's highest civilian award, the Presidential Medal of Freedom, Mr. Michener served on the Advisory Council to NASA, held honorary doctorates in five fields from thirty leading universities, and received an award from the President's Committee on the Arts and Humanities for his continuing commitment to art in America. James A. Michener died on October 16, 1997.
Praise For Space…
"A master storyteller . . . Michener, by any standards, is a phenomenon. Space is one of his best books."—The Wall Street Journal
 
"A novel of very high adventure . . . a sympathetic, historically sound treatment of an important human endeavor that someday could be the stuff of myth, told here with gripping effect."—The New York Times Book Review
 
"Space is everything that Michener fans have come to expect. Without question, the space program's dramatic dimensions provide the stuff of great fiction."—BusinessWeek
 
"Michener is eloquent in describing the actual flights into space, as well as the blazing, apocalyptic re-entry of the shuttle into earth's atmosphere."—The New York Times